5 Tips on Walking a Reactive Dog: What I've Learned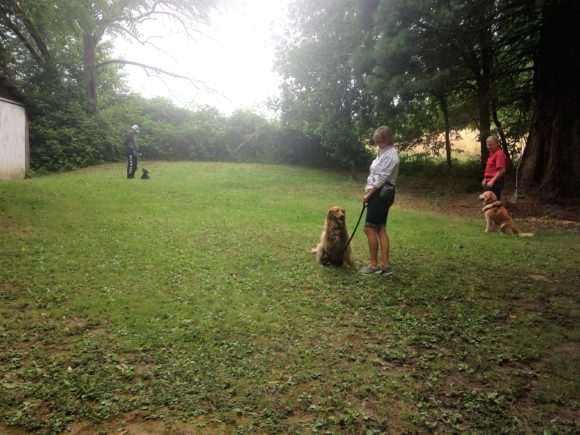 Reactive Practice Group, @Jacqui Dowsett CPDT-KA, City Dog Country Dog
(I'm with Walt all the way in the back as we need more space)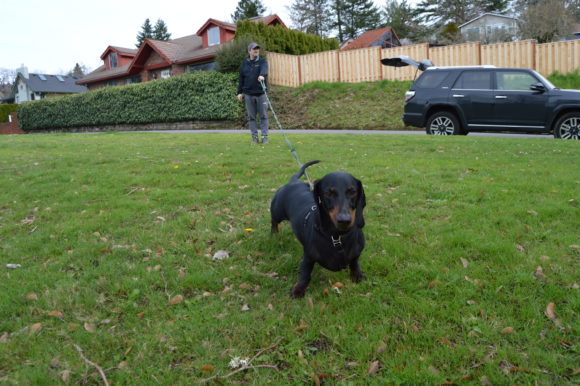 Walter is on a long lead as we're practicing recall constantly with him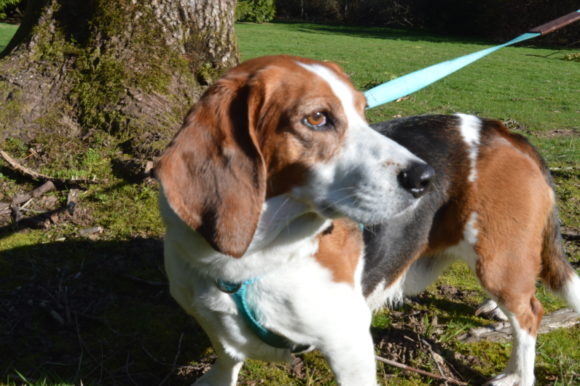 Sweet, reactive Sherm
The National Center for Chronic Disease Prevention and Health (CDC) recommends 150 minutes of moderate intensity aerobic activity on a weekly basis. So let's first establish that walking your dog is just good for your health.
What if you have a dog that's reactive on leash and you still want to get out two to three times day and exercise with your best friend?
What I used to be fearful of?
Embarrassment that people would look at me like I'm a crazy dog parent with no control over my Beagle/Basset mix that looks like Snoopyand acts like Kujo
Sheer terror that someone would walk up to me with their dog so our dogs can greet on leash
A dog off leash would run up to us from a yard or the school near where we live and I wouldn't be able to u-turn quick enough
So I would pick off hours for walking Sherm the first few years of living with him… since then over the last five years, I've learned a lot. I also am grateful for our dog walker of ten years! I'm happy to recently connect with a dog walker and pet sitter on Rover.com. She rocked our world and knew exactly how I felt when I walked her through walking all our dogs…separately and with high value treats like turkey. She's coming back at the end of July too.
We're also in a Reactive Dog Practice Group with City Dog Country Dog. I posted a picture at the top of this post as Walter is showing a lot of control!
Good choices and setting up Sherm for success:
IF I cannot walk Sherm, where do I turn? Rover.com has some amazing pet sitters and dog walkers. I'm eternally grateful to our dog walker, Juli Norman, who has walked Shermie for almost ten years and manages him with positive reinforcement. While Juli is an independent dog walker with her own company – I want to emphasize that there are options.
Enrichment: Since Sherm has very controlled walks (and sometimes we don't get in a lot of sniffing in) we also participate in Nosework as  it's a sport reactive dogs can take part in!
Look at me games: For five minutes each morning we use the clicker and play the look at me game with each dog – separately.
Recognizing signs of fear in dogs – I have this down to a science for Sherm – but Rover has a great article with some tips for pet parents (tail pinned, ears back, licking lips (Sherm does this a lot when fearful).
Take a Growly Behavior Class with trainers that specialize in this – we did this and it made a huge difference. We were taught the tools to set up Sherm for success… finally! This class didn't "fix" Sherm but taught us how to manage his reactive on leash behavior.
After reading this article, I didn't feel so alone:
Resources:
I love Victoria's articles: https://positively.com/victorias-blog/choice-training-working-with-a-leash-reactive-dog/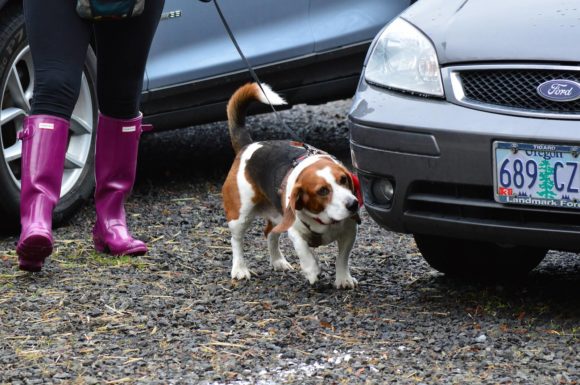 A Vehicle Search with Shermie!