BlogPaws 2016: Partnership With Native Americans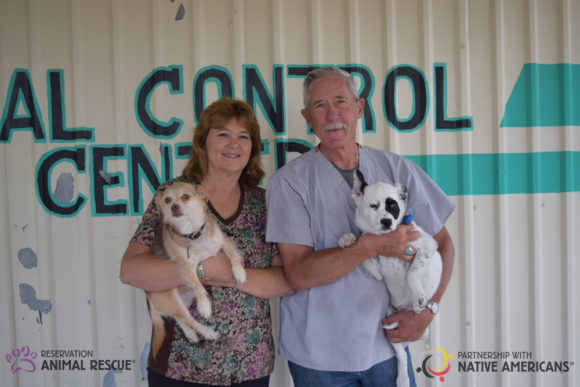 Cosy and Clint, McKinley Gallup Humane Society, are partners of PWNA and its RAR program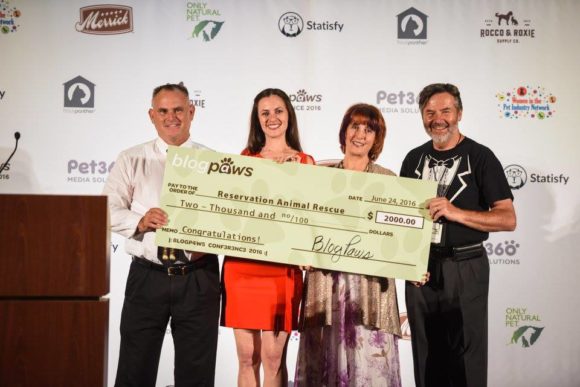 BlogPaws 2016 check ceremony. Photo credit: Annabelle Denmark Photography 
I attended BlogPaws 2016 last weekend and they partnered with a wonderful organization I wasn't familiar with until recently. Partnership With Native Americans (PWNA) is a BBB-accredited charity committed to championing hope for a brighter future for Native Americans living on remote, geographically isolated and often impoverished reservations. They collaborate with reservation partners to provide immediate relief and support long-term solutions for strong, self-sufficient Native American communities.
BlogPaws made a donation to PWNA to help further their efforts with animal welfare groups that rescue, rehabilitate and place injured or stray animals in foster care or forever homes, ensuring well-being of animals and healthy, safe communities. Did you know that the conference swag was also being donated to PWNA?
"This year, BlogPaws is working with Partnership with Native Americans in helping rescue dogs on reservations. They work with many reservations in Arizona. They will package the different swag and donations from the BlogPaws Conference to benefit several different reservation organizations for pets." ~Chloe DiVita, Director of Programs and Events/COE for BlogPaws
Following the event, I asked their Public Relations Manager, Helen Oliff, a few questions about RAR (formerly named ROAR (Rescue Operation for Animals of the Reservation) as I thought readers may be interested in learning more – this organization goes to great lengths to help animal welfare efforts in tribal communities.
More here: RAR Home – Reservation Animal Rescue
My Q&A with Helen Oliff, Public Relations Manager, Partnership With Native Americans: 
Q. Can you please expand on your partnership with BlogPaws this year?
A. BlogPaws provides a critical service by connecting pet brands and pet parents through social media, and we have been very co-active this year in sharing across BlogPaws, PWNA and RAR social channels.
We first met BlogPaws through the 2013 AAHA Conference, where our animal welfare program (then ROAR) was being recognized. At that conference, BlogPaws surprised us with a donation and we were delighted to be recognized again at their own 2016 conference.
At this year's conference, BlogPaws made a generous donation to RAR and, in addition, donated all of the in-kind items onsite after the conference ended. This amounted to about eight pallets of food, toys and other supplies. We are humbled by the generosity, knowing it will absolutely benefit our partners and the animals in their care.
Q. Are there specific Native American tribes in Phoenix you partner with? Given the Navajo Nation has so many stray dogs and cats, are you partnering here in this region or across the country?
A. Many tribal communities face challenges related to overpopulation and strays. Currently, PWNA is partnering with 17 partners on 10 reservations. This includes several tribes in Arizona, specifically Navajo, White Mountain Apache and Ak-Chin in the Southwest. In the Northern Plains, we have partners from Pine Ridge, Rosebud, Standing Rock, Omaha, Fort Peck, Fort Belknap and Cheyenne River Reservations.
Collaborating with these partners, nearly 80,000 animals received rescue and care in 2015. "When this was shared by Rick Miller, our Southwest Program Manager, at the BlogPaws Conference, the crowd gave a standing ovation."
Q.  Can you please expand on your efforts to educate Native American communities on the proper care of animals or spay/neuter/vaccinate animals of the reservation?
A. Often, the communities we serve are geographically isolated and without veterinarians. These communities are also impoverished making animal healthcare unaffordable.  We support the work of local rescue partners, mobile spay/neuter clinics and programs such as McKinley Gallup Humane Society that is accessible to numerous communities.
The problems created from overpopulated and stray animals are immense for some reservation communities, including disease, animal bites, rabies and other safety concerns. The Navajo Nation alone has estimates reaching as high as 6,000 stray dogs and cats, and this varies by reservation and community.  Because of this, we support reservation partners that spay, neuter and vaccinate animals of the reservation and educate communities on proper care of animals.
We recently awarded a RAR grant to McKinley Gallup Humane Society, to subsidize the cost of spay/neuters. This group is accessible to numerous Navajo and Zuni communities, and they have already treated 33 animals.
The bottom line is that PWNA's support enables our RAR partners to care for more animals and educate foster families and communities about animal welfare.
Q. Do you work with specific animal hospitals in the region to help educate these communities? Do you hold workshops or seminars on vaccinating?
A. Often, the communities we serve are geographically isolated and without veterinarians. In addition, these communities are often impoverished, making animal healthcare unaffordable. PWNA provides resources and grants to support the work of local rescue partners, mobile spay/neuter clinics and programs.
Our RAR partners include animal welfare groups, animal control groups and other programs in tribal communities that provide education about animal care and the benefits of spay/neuter, vaccination, animal tags/licensing as well as human health risk associated with stray or untreated animals.
Resources:
Blog Paws – there are many posts about the event!
Here is a story about the work they do: