Car Seat For Small Dogs: Safety First!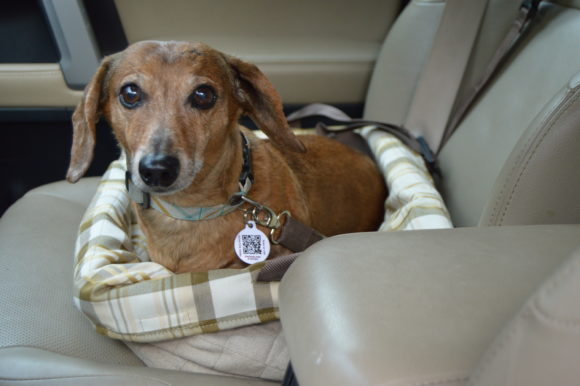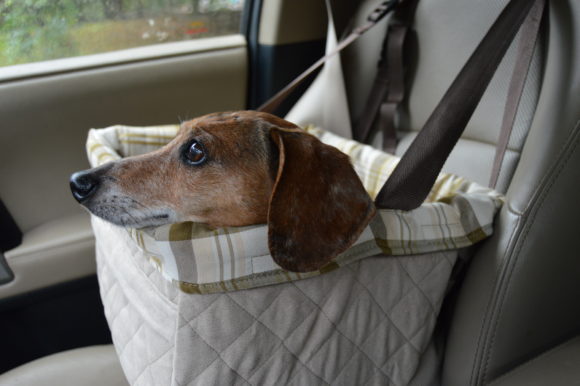 After a lot of research, The Tagalong Deluxe Pet Booster is what I decided to try out with Bruiser.
Solvit Tagalong On-Seat Pet Booster, Deluxe, Jumbo
 <affiliate link> is the one product I found that sat on the front seat. I love the replaceable cover that I can wash and an area I can attach to the seatbelt to – it's really secure.
Sometimes Bruiser rides up in the front instead of in the back in his crate. It's not safe for your dog to ride in the front – and I know better. I needed an option for short rides to the "village" when I wanted a coffee or needed to stop at the bank.
As you'll see in the video, the car seat is super comfortable for Bruiser and the collar/harness attachment works well.
Here are some of the features:
Utilizes a rigid internal structure that integrates with seat belt for added security

Quilted micro suede cover with quilted plaid liner and reversible pillow

Removable, washable liner keeps seat clean and fresh
Honestly, the crate we have is the best option no question. If we go anywhere (although an accident can happen anytime) beyond Starbucks, he'll go in the crate.
As a senior I want him to enjoy every moment and every car ride!
Pin me!