Chewy Gifts in Hounds, Holidays & Hot Buys Giveaway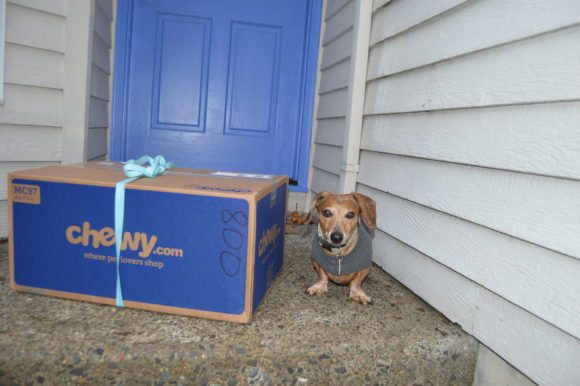 #ad #chewyinfluencer
The massive #houndsandholidays giveaway includes some fabulous items from Chewy.com. As you all know, I'm a #chewyinfluencer and review products monthly. This review includes items from the holiday giveaway and two brands I tested out this month. We held off testing until the long Turkey weekend as I knew the dogs deserved special treats while the humans feasted on turkey and stuffing. All my guys have various diet restrictions so we're really careful about what treats they test and review.
More about the Treats & Food giveaway in The Daily Pip's blog that also highlights Chewy products!
So for this holiday giveaway we "tested" the following items:
The Aspen Pet Oval Bone Applique Dog Bed has raised sides to help promote nesting!  So far all three dogs love it when it's really only appropriate for Bruiser as we have a small but even Shermie tries to get in it! It's filled with high-loft, recycled polyester fiber fill and machine washable for easy care.
If you read my treats reviews, you all know I'm a big fan of Orijen treats so I loved testing and reviewing the Free Run Duck Singles Freeze-Dried Dog Treats. They are made from cage-free duck raised on natural grains and well water in Ontario, Canada. What's not awesome about that?!
Let's start with the KONG Jumbler –  it is a two-in-one ball toy and the interior tennis ball squeaks. I  love all Kong toys and this one adds an element of interactivity…  Love this!
Elevated feeders are not only great for senior dogs that have trouble bending over their dishes but it's also great for your dog's digestion. These elevated feeders incorporate convenient storage capacity under the 2 stainless steel bowls, kept dry and fresh by an airtight seal and snap-tight latches.These are great for cleaning too.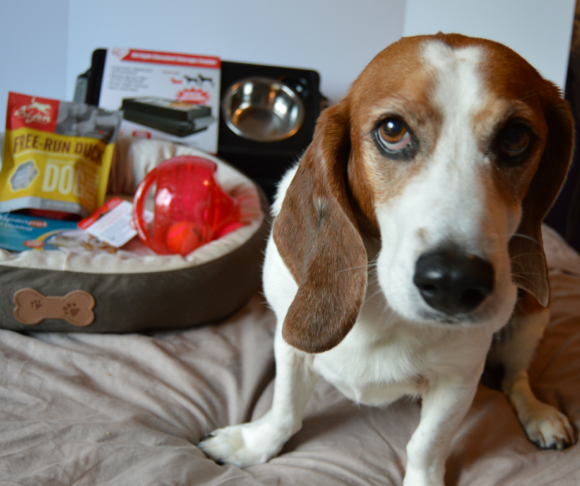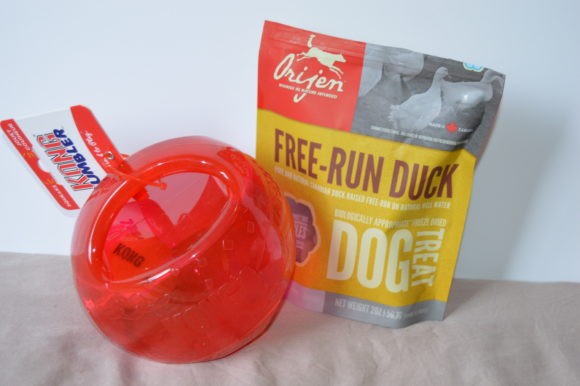 November Review too!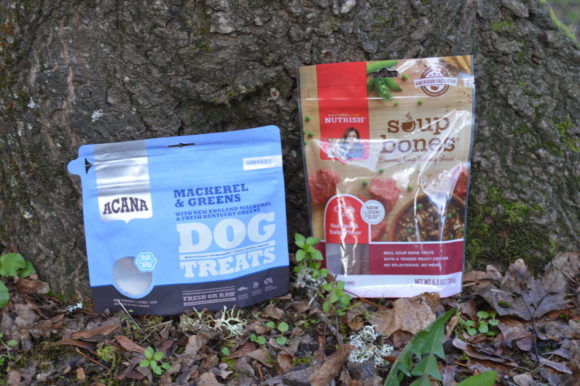 Over the holiday weekend we reviewed Acana's delicious treats and Rachel Ray's Soup Bones.
What I loved about both:
Acana Mackerel & Greens Treats!
These are fresh, wild-caught, and from New England. Also, Mackerel is the single animal protein, paired with spinach
Limited ingredients for sensitive pups – perfect for my guys!
Spinach provides a rich source of fiber, and sarsaparilla root supports healthy digestion. Meanwhile, mackerel is full of omega-3 to support skin and coat.
This long-lasting chew is made with real beef and hearty barley and has all the deliciousness of a wholesome soup bone with none of the splintering or mess
There's even a tender meaty center inside made without meaty by-products or artificial flavors
These are highly digestible so more nutrition goes to work inside your dog
As you can see, Shermie is a fan now! 😉
Disclaimer: We received these products from Chewy.com as part of their blogger program in exchange for an honest review.  I only share information about products that I believe in and already fit into our doggie lifestyle and routine. Chewy.com did not compensate me for this post.   
Gift Guide time!