Darwin's: We love Lamb!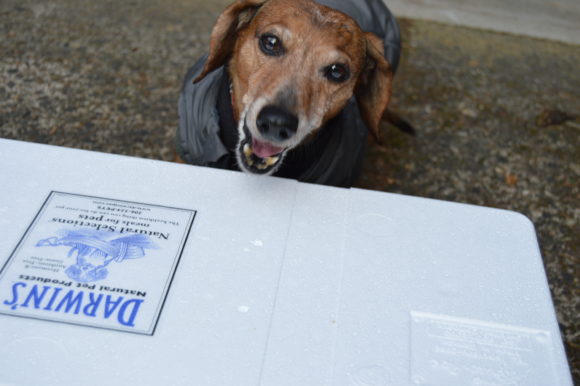 Top reasons to consider feeding Lamb to your dog
Thank you Darwin's! #sponsored
Disclaimer: We received Lamb from Darwin's as part of their blogger program in exchange for an honest review.  I only share information about products that I believe in and already fit into our doggie lifestyle and routine. Darwin's did not compensate me for this post.
I've been feeding a raw diet to our three dogs for the past three years. Darwin's was recommended by our holistic veterinarian as I was looking for an alternative to kibble. Our older dog, Bruisy, is a picky eater and our other dog, Shermie, was recovering from a terrible abscess and after many days at the ICU his appetite was finally returning. This was a good time to transition to a raw diet.
Given Bruisy has Irritable Bowel Disease we were advised to cook the raw food as it's easier for him to digest. So you can cook it – I've talked with their experts and I'm not losing any nutrients by doing this. I lightly cook the meat. It takes 5 minutes and isn't a big deal. All three eat the raw meals cooked as it's easier honestly since I split one meal (they come in square packages – see below) between all three twice a day. Note that Walter and Bruiser are small dogs so these meals are super cost effective for us. I do totally appreciate the cost when it comes to feeding a larger breed a raw diet. I included the cost below.
All three dogs love it and I haven't looked back since. They thrive on the diet and Darwin's delivers the meals to my front door every other week.
We switch between beef, chicken, turkey and NOW…. Lamb! Lamb was recently introduced by the company so of course I decided to put this in the rotation. More here in a post I wrote awhile back about why we're fans of a raw diet.
I must admit, they love beef so I was curious if Lamb would be able to compete. I'm a big believer in rotating proteins.
Lamb is considered hot in nature and is used by traditional Chinese medicine to dispel colds, nourish energy and blood, promote appetite, aid in lactation.
Lamb is also high in zinc which is needed for cell replication and is essential for the regeneration of the intestinal mucosa, the healing of wounds, and to maintain healthy skin, hair and nails. "One of the biggest benefits of feeding lamb to your dog is that it is a good source of zinc, a mineral that affects many fundamental processes, including that of immune functioning," says James Pendergast, Head of Formulations for Darwin's Natural Pet Products.
Ok!– Darwin's new Natural Selections Adult Formula Lamb comes in the same packets as the other meals.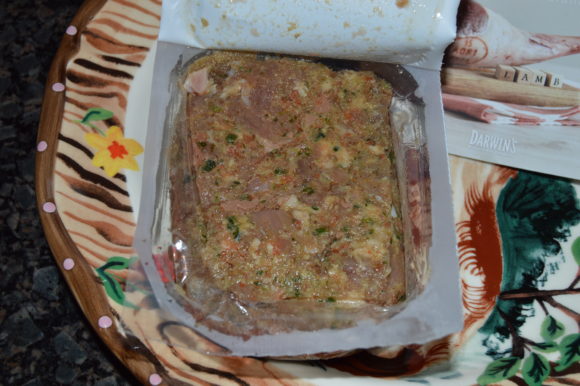 Cool facts that may be of interest:
The meat is sourced in the USA, New Zealand and Australia and raised without antibiotics or added hormones.
I was just reading about the importance of omega-3 fats and considering adding a supplement to their existing meals BUT – Lamb is a high source of omega-3 fats, grass- fed lamb is also high in zinc.
Adding Lamb will also help stabilize blood sugar levels which benefit their metabolic rate.
Fun fact: Lamb is often used in Chinese medicine. It helps nourish energy and blood, promotes appetite, aids in lactation, and minimizes back pain caused by kidney weakness.
Cost: $5.95 lb.
Resources: *If you need more information on a raw diet you should check out this blog. And if you want more information from Darwin's you can check out what they offer, testimonials and articles on their blog.
Darwin's – http://www.darwinspet.com/product/raw-dog-food-ns/
Raw Food Diet blog – http://keepthetailwagging.com/welcome/ – I'm a big fan of Kimberly's blog, check it out