My Dog Vomits Bile In The Morning: Why?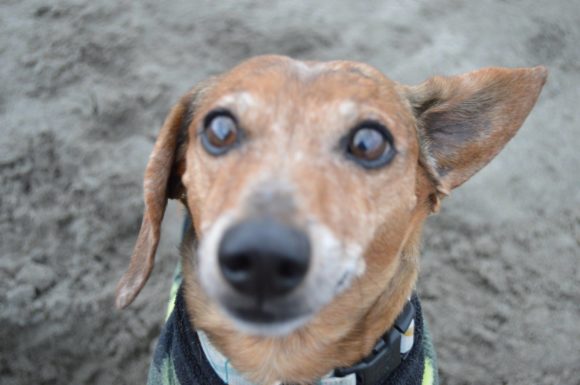 Bruiser was diagnosed with Bilious Vomiting Syndrome earlier this month. He already has Irritable Bowel Disease. He is on a daily antibiotic for that and has done ok for years. So we have a lot going on now in the GI distress department. Caring for a senior dog is stressful for sure BUT this syndrome can happen to a dog of any age so it's worth noting this is not specific to aging dogs only.
So how did we come to this conclusion? Bruiser started vomiting bile (If vomiting, reading about vomiting, thinking about vomiting makes you want to vomit then skip to another post) about a month or so ago in the middle of the night. Sometimes this was at 4:30 a.m. or later but before we typically got up to feed the dogs breakfast.
I felt terrible for him. He would sometimes go back to bed and other times he seemed uncomfortable until we got up – it wasn't a great start to the day. So after an ultrasound and X-rays we determined with the help of our Veterinarian and an Internist that there wasn't anything else going on we needed to be concerned about. It's now managed but it didn't happen overnight and we had to try some combinations of medicine. Bruiser was already taking Pepcid or Famotidine a few months back as we were characterizing some of the issues he was having at that time as acid reflux but we were now onto a different variation of antacids. The vomiting started happening months after the "yurpy" behavior and Pepcid regiment.
Bilious vomiting syndrome in dogs is vomiting in response to bile-induced inflammation of the stomach. It is also known as reflux gastritis syndrome and duodenal-gastric reflux. Dogs with this condition usually vomit in the morning after not eating all night. Treatment is to feed late at night.
Medication and Treatment plans:
Metacloproamide: He receives this for nausea twice a day (5 and 10 p.m.)
Prilosec or Omeprazole: This is given with a small meal around 8:30 p.m. each night
Small Meals: A small meal is important and given every evening – he seems to metabolize this additional food with no issues as he hasn't gained any weight
If Bruiser continues to have issues we may need to consider scoping his GI tract. He has been doing OK for the past two weeks so we're hopeful we can continue with these medications to keep this under control.
Resource: I found an article on Pet MD that goes into detail but if your dog is experiencing ANY symptoms please see your Veterinarian.