Halloween Is Stressful for Animals: How Probiotics Help & Safety Tips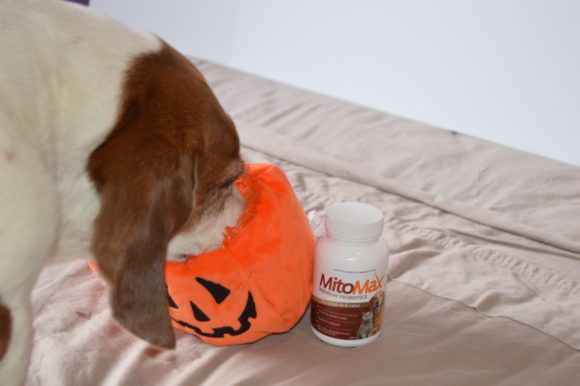 #Sponsored
A look at two important studies that demonstrate why giving probiotics before a stressful event can make a difference. This is a series of posts I'm writing on Probiotics.  
All my readers can receive 10% off by using this coupon code- mylifewdogs when you check out. (I do get a few pennies if you buy something from Imagilin).
I have a love/hate relationship with Halloween. Personally, I don't like to be scared and was never a fan of watching scary movies growing up as they give me nightmares. The dressing up part is fun though! Now that I live with dogs (remember the three dogs I live with too…that plays a big part clearly) with sensitive stomachs, Halloween all of a sudden took on new meaning. I already have a "no solicitors" sign up so folks don't ring the doorbell. This is all part of our training and management routine.  Since Halloween can be fairly stressful at our house, we manage the dogs to ensure the days following we don't have bad bowel movements and trips to the vet.  The influence of stress on chronic intestinal disorders is well documented and Bruiser's Irritable Bowel Disease can flare up with little warning.
So what do folks do that live with dogs you're constantly trying to set up for success? Success = not barking at the doorbell and keeping stress and anxiety to a minimum. Sticking with this management program is almost impossible during a holiday like Halloween….Boo!
What does management look like for us?
You can apply this to other "stressful" holidays too – tis the season of stress!
Baby gates and puzzle toys – all prepped (see below picture of our puzzle toys as we prepared for Halloween eve. Every puzzle toy is loaded and ready to go). Use the baby gates to keep your dogs from jumping on guests or bolting out the door.
Long walks prior to 6 p.m. when it starts to get dark – I'm talking about doubling the normal amount of exercise that day!
My TIP: Consider leaving a table out front with bowls of candy for the kids and a friendly sign that says "help yourself". I know this isn't as fun and you don't get to see all the costumes but if you have a shopping mall nearby or in the "village" by our house for example, kids dress up and shop at the stores and that's fun if you want to "celebrate" that way.
What? Yes, add Probiotics to your dog and cat's daily routine as there are numerous studies that show probiotics (reminder! The majority of immune cells live in your gut) help with the impact of stress on our animals – according to MitoMax manufacturer, Imagilin the best process is- double the "maintenance" dosage 2-3 days before Halloween. For example, according to the maintenance dose, Bruiser only gets one capsule per day so I'll double that dosage and give him two capsules starting Friday. Then you can go back to the regular dosing schedule.
PROVE IT: There are two very interesting studies done by Imagilin on the topic of how probiotics can benefit animals that are experiencing severe anxiety and stress. The Resources section has the full study if you'd like to read on but it's fascinating… if you like that kind of stuff….
Study #1: This study looks at separation anxiety and how this induces stress-related health issues on the dogs. According to Imagilin's study, probiotics help when animals are in VERY stressful scenarios (far beyond Halloween but this holiday is a good example of a different type of stress – anxiety comes in many forms). When dogs stay in an animal hospital or in a canine hotel, they often suffer from separation anxiety and stress-related digestive disorders such as diarrhea, vomiting and loss of appetite are common. It has been reported that the beneficial microorganisms found in the in gastrointestinal (GI) tracts are decreased when the animals have been placed under various stress.
The results of this study looked at the stool and appetite results of a number of dogs, they observed that P. acidilactici and S. boulardii (found in MitoMax) have beneficial effects on alleviating stress-related digestive disorders when dogs stay in animal hospitals  where eating is essential. More here <hyperlink>.
________
STUDY #2: Introduced to the aquaculture industry relatively recently, probiotics have already shown a remarkable ability to manage various aspects of fish health. This study shows that P. acidilactici Increases Survival of Gold Fish under Physical Stress.  This study shows how stress is caused from the "physical movement of transportation of fish form one tank to another and during the shipping process from the breeders to the pet stores to the homes" and how fish benefit from probiotics when they are stressed.
44 gold fish were randomly assigned to either a control or probiotic-treatment group, and fed the corresponding diet for three days. They were then subjected to physical stress for three hours due to the physical movement of transportation. Over the 15 days which followed, fish in the probiotic-treated group received continued Pediococcus supplementation in their feed.
Values shown represent mean survival data for the control and probiotic-treated groups.  In the first 4 days no significant difference is observed between the control and treated groups.  Probiotics appear to have a positive effect on the survival rate of the treated group starting from day 5 for each physical stress event.
Resources:
MitoFish™: Pediococcus acidilactici Probiotic for Fish Health (Imagilin can provide full study, please comment below if you're interested as I'll send to you directly)
Effectiveness of Pediococcus- and Saccharomyces- probiotics to reduce stress related digestive disorders in dogs (Imagilin can provide full study, please comment below if you're interested as I'll send to you directly)
You Tube video  with the application explanation
Disclaimer: We receive a discount off our supplements from Imagilin as part of their blogger program in exchange for an honest review.  I only share information about products that I believe in and already fit into our doggie lifestyle and routine. I was compensated for this post and the above discount code is an affiliate link.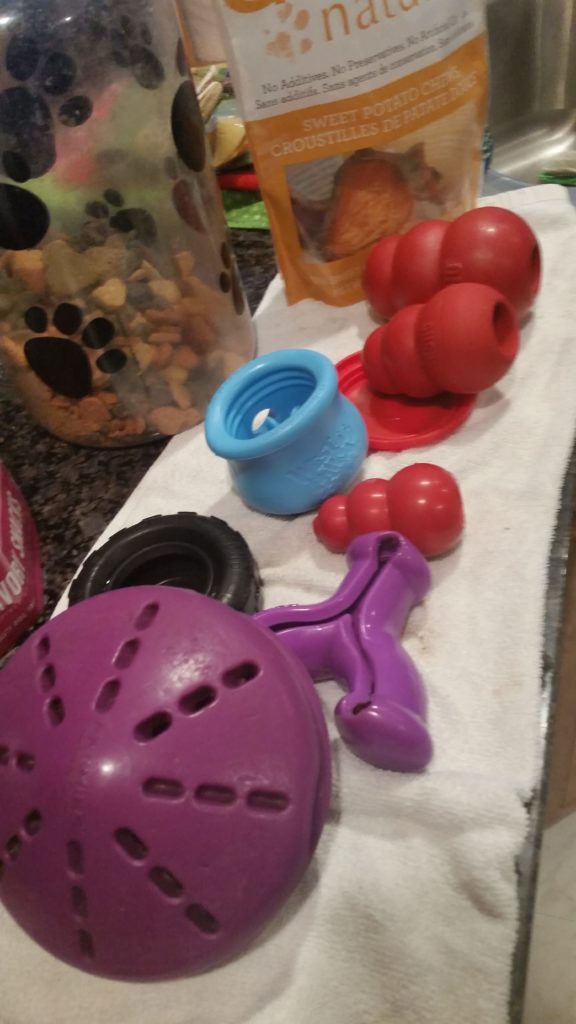 Puzzle toys for Halloween – how to enrich while the doorbell rings!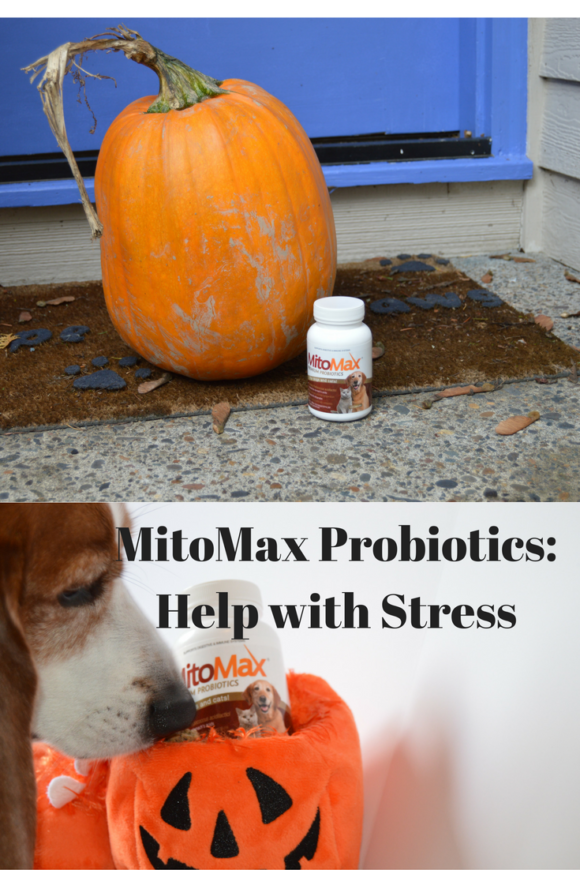 Pin me!