Happy Birthday Bruiser! The True Meaning of Friendship
Well, Bruiser is 14 years old and the oldest dog I've ever had the privilege of sharing my life with.
We had a super scary weekend about two weeks ago as he went into congestive heart failure but pulled through like a superhero. I don't want to write a long, sad post about his heart disease though. I'd prefer to stick to why birthdays are important to acknowledge.
And thank you, Gretchen, for the beautiful "Forget Me not" themed cake. She also baked Walter's cake too@!
So why should you celebrate birthdays? What's so important about the bond between us and man's best friend?
The history of our relationship with dogs is fascinating. We have been relying on them to guard our land and protect our livestock for a long time.
But what about our friendship and the bond?
I asked fellow dog bloggers to talk about what these relationships (with their animals) mean to them! These should make you tear up – I did!
Jodi Chick – Kol's Notes
"Felix has been the one constant in my life for over a decade through moves, job changes, relationship and more. No matter what is happening in my life, the only thing I can really count on is his wagging nubbin and snuggles at the end of the day. He is the living embodiment of unconditional love and ANY CHANCE to celebrate him is absolutely worth it."
Maggie Bradburn Marton – Oh My Dog Blog!
"My dogs, past and present, remind me every single day to live in (and enjoy) the moment. They never stress over the past or worry about the future. They just live, and they live to experience the best things in life… walks, food, playing, snoozing, cuddling… and, of course, the intense joy over spending time with friends and family. My dogs have always been my spirit guides, even the difficult dogs (maybe even more so the difficult dogs)!"
Denise Yoder-Gruzensky –  Denise's Dog Dish
"All of my fur kids have reminded me what it truly means to forgive, let the past go and find happiness in each moment. They love us, their new forever home, unconditionally and are able to experience and bring immense joy no matter how badly they were hurt before."
Bryn Nowell – A Dog Walks Into a Bar
"Every day, I aspire to be the way my dogs view me. I wish humans were as quick to forgive and offer love unconditionally. I am thankful for having them in my life to help show me the way and to embrace their joy!"
Rochelle BaRoss – The Broke Dog 
"I'm not even sure what to say. I just love Henry so much. He's helped me make SO MANY amazing friends and come out of my shell (on the internet, of course, because's he's a special boy and has trouble going out in some public places.) I've met so many people who love dogs as much as I do, and who also deal with some anxiety and mental health issues. (Which have, thankfully, not been as much of an issue because of this amazing community he's helped me cultivate.) I've been able to use his anxiety as a jumping off point to be a voice for mental health awareness, and many people have thanked me for that. He's just the best!"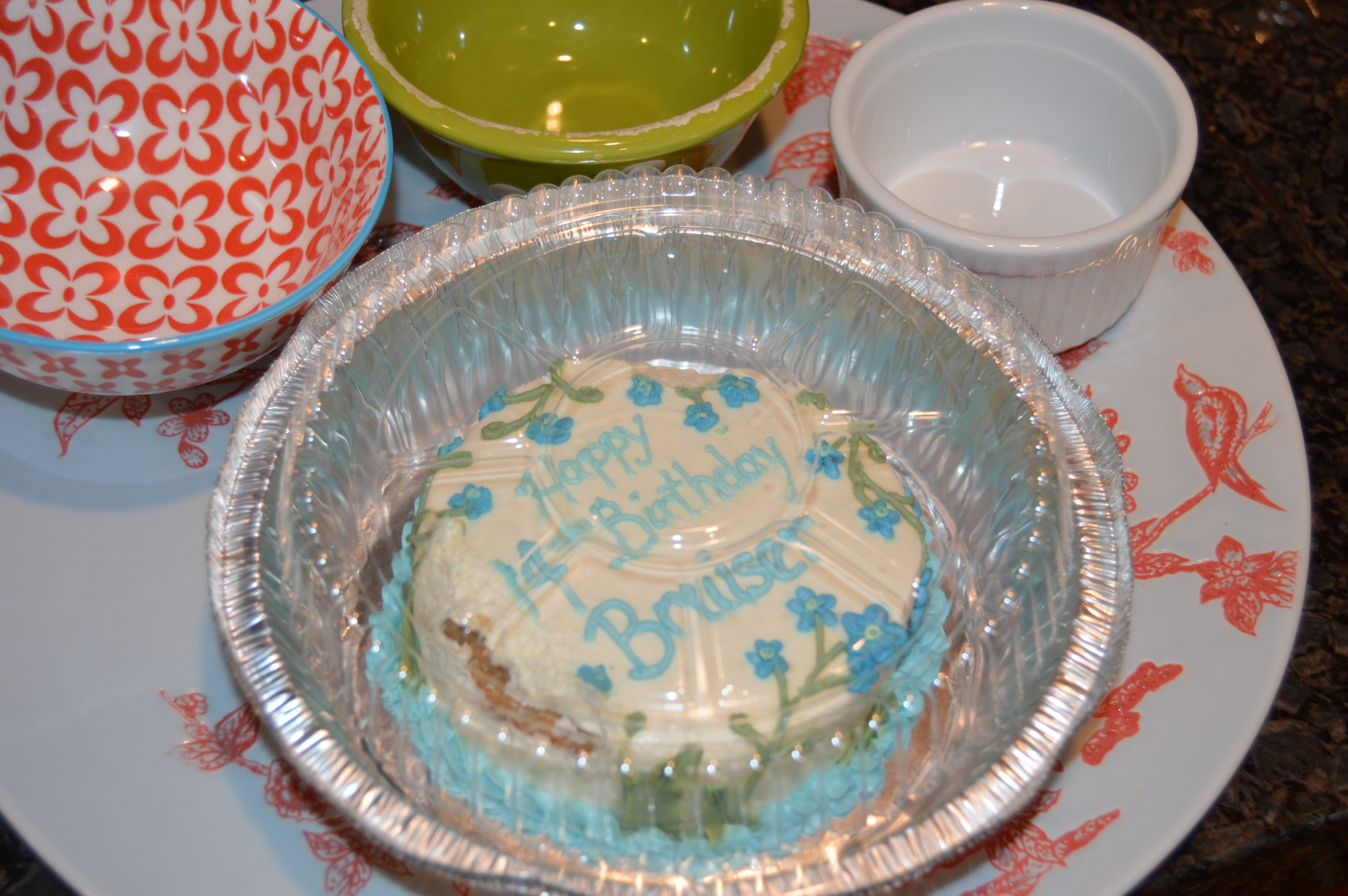 Complete with Forget Me Not Flowers!