A HYGGEE Holiday Card from Minted #ad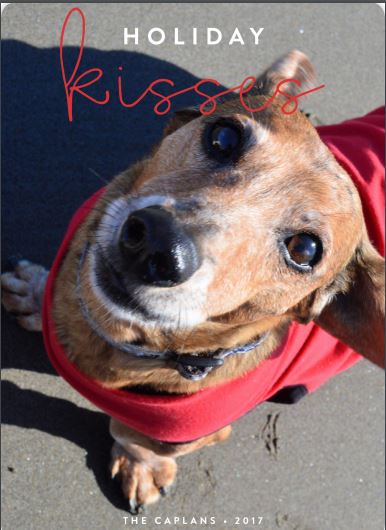 I'm excited to partner with Minted.com on their holiday card campaign and I received compensation to thank me for my participation. #ad This post contains affiliate links. If you click through and make a purchase on Minted, we will earn a small commission.   
I picked this photograph for our holiday card because for me it embraces the concept of HYGGE, "coziness, warmth, and togetherness". HYGGE is a Danish term (Danes are the happiest people in the world) and continues to be in the news as the Happiness Institute introduced the concept to the rest of us in a book in the last few years. When you think of being wrapped up in a warm blanket that is essentially HYGGE. 
"Still-lifes of hands cradling a mug" is another photograph that embraces this – and this is just an example for folks not familiar with the concept.
"Holiday Kisses" is the theme for this card designed by a Minted artist (more about her below) and I specifically wanted a photo of the dogs that represented time with loved ones in a relaxed, environment. The trips we take the coast are exactly that. There is nothing more HYGGE than spending time with the three hounds and since our oldest dog is 13 years old I try to cherish the time we have together. Every. Second. Counts.
I was talking with a friend a few weeks ago about holiday cards as I searched everywhere for the perfect backdrop and template for this year's card. I tend to steer clear of cards that have holiday scenes since I want ours to reflect where we live and in the Pacific Northwest there is rarely snow, only rain. The coast (and giant firs) is precious to those of us that live here so the photograph on the front and back share a glimpse into our lives with our dogs. These are both from two separate coast trips.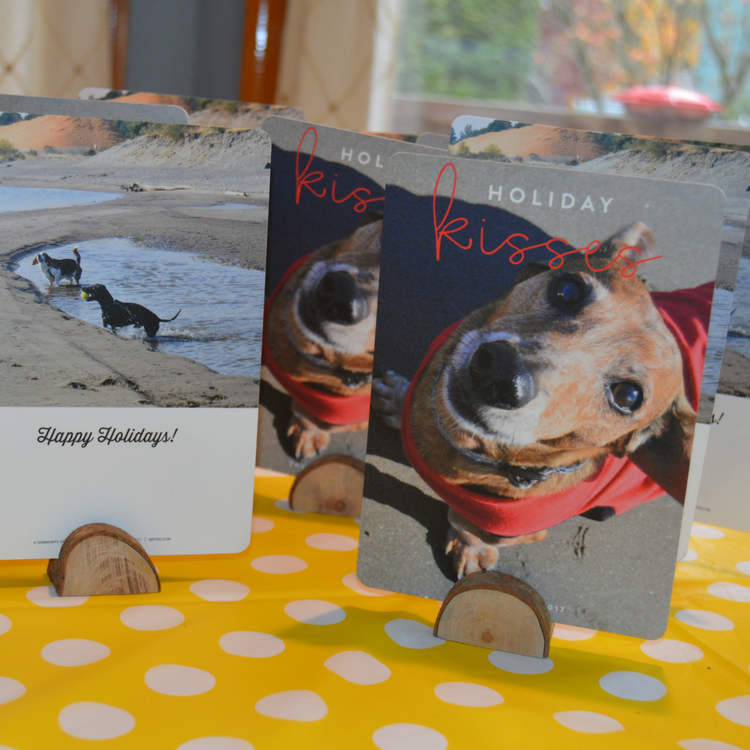 Bruiser's Grey Muzzle
:
Another aspect of why I picked this photograph is Bruiser's grey muzzle. At 13, his muzzle alone shows his age. This image reminds all of us to remember to cherish every holiday season and time with family. I've been including images of Bruiser in every card and if I look back over the last five holiday cards it's obvious that my pack is growing older.
And I'm getting older too! Every year when I look at our cards, daylight savings has already come and gone and we're just a few weeks away from Turkey Day week. I cannot imagine life with less than three dogs so when I realize that time is ticking I make sure those annual trips to the coast and Mt. Hood are on the calendar and set in stone. 
Our HYGGE Holiday Card Screams -"Live in the Present" 
HYGGE tradition is simplicity. If acting HYGGE is as simple as cozying up with a cup of Cocoa then cozying up with my hounds is very HYGGE. Living in the present is what we do best when we're simply out hiking or walking – it's almost a form of meditation. These simple acts help keep me same. I hope when folks hang this card on their fridge they get this feeling! I know the Minted designs are so unique and there are lots of great backdrops for pet parents depending on the types of photos you're hoping to use.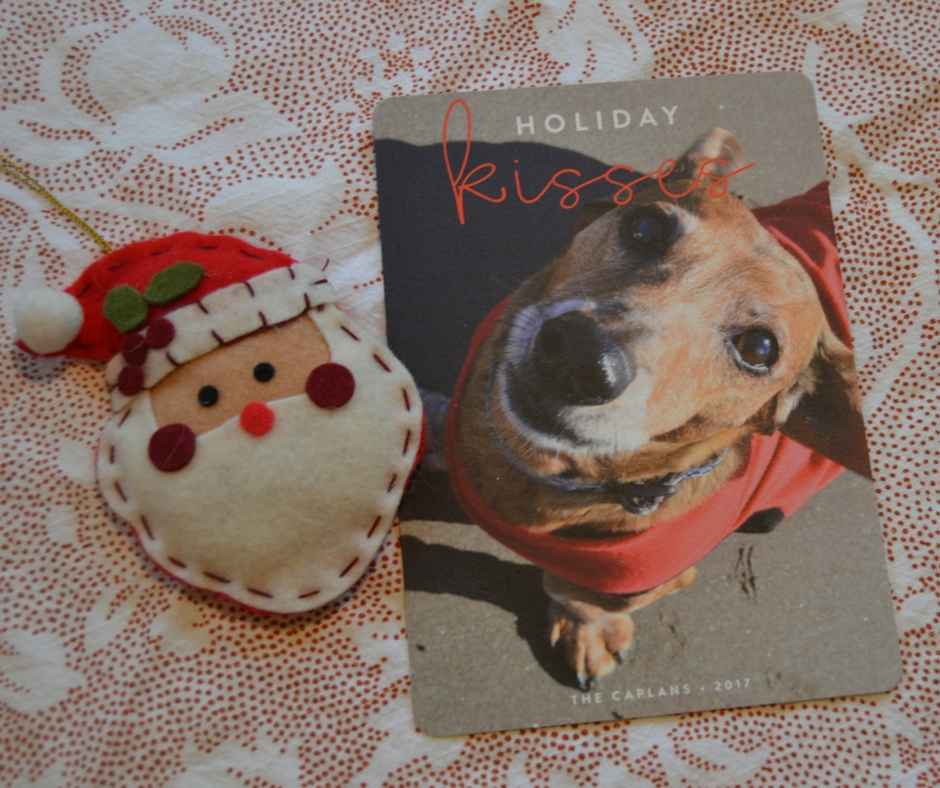 About the Minted Artist:
Roxy Cervantes is one of the many members of Minted's talented community of independent designers and artists. Holiday Kisses is just one example of her style and you can find more of her work on her portfolio site. This design starts at $53 for a quantity of 25. 
Why Minted?
Minted
 is a design marketplace of independent artists from around the globe. What I love is the ability to customize – there is a variety of options that allow you to add additional photos and text to your holiday card.
The process if super easy and there are unlimited proofs and I had my own dedicated designer! You can also choose their free recipient address printing service. Don't you want to save time? The whole process took less than 30-minutes. It was so much harder to find images to feature than it was to go through the ordering process!
Another post since I'm such a big fan. 
We received our holiday cards as part of Minted's blogger program in exchange for an honest review.  I only share information about products that I believe in and already fit into our doggie lifestyle and routine.
Pin me