Learn To Be a Death Doula For Your Animals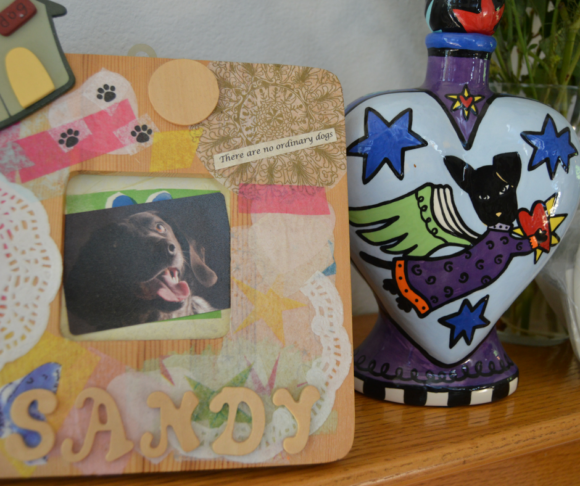 When I was at the park last week with the three dogs, I noticed a man with his old dog walking past our car. He was clearly headed to "his spot" where he sat down with his dog – and I immediately thought… great, how am I supposed to walk my reactive dogs around this guy without being a total nuisance. So I started with Bruiser only. He's also super old and can mind his own business around dogs his own speed – so we walked around him and of course, Bruiser was more worried about the rabbits he missed by a minute. I never want to interrupt a quiet moment between a senior animal and their person as it seems precious.
And I thought about Bruiser and this man with his old dog and my upcoming Death Doula workshop. I know it sounds crazy to look forward to an afternoon about death but I worry about the void that will be left after Bruiser moves on. I need to better understand how to prepare and I knew after listening to Ute Luppertz with Pet's Point of View – my perspective would change and I'd have new tools. Ute provides hospice support for both pets and their guardians and is available for consultations.
So fast forward to today…. my biggest takeaway was how to create a compassionate and inclusive culture for the end of life the partnership between humans and their pets.
And of course, I learned… what it means to be a death doula for our companion animals and all animals passing. Being proactive before there is a health crisis is half the battle. So part of a doula's job is to offer some ideas to pet parents dealing with end of life care for their animals or an animal that has been diagnosed with a chronic illness – or in my case, an aging animal that I have no doubt will live until he's 20 but better to be prepared nonetheless.
The day was heavy and many tears were shed. I was lucky to be part of such a beautiful day and discussion that was not easy for anyone there.
Our animals will not be with us forever. I've already said goodbye to two dogs – Jack and Sandy. Sandy passed away over five years ago now.
Rituals after your animal passes.
This could be a simple picture surrounded by candles that you see every day that makes you smile.
Perhaps a party with friends and special animal caretakers to celebrate your animal's life and laugh about good memories (with good cocktails).
This is my favorite – a letter to your animal telling them how much you love them and that you'll always think about them.
I made the frame you see in the picture at the top of this post at our local emergency hospital – they hold these for grieving pet owners -and have this on our mantle next to her ashes.
Consider adding some of their ashes to a piece of jewelry. Just google this and many places will come up that offer these types of services.
What about painting a picture of your animal – we learned about a client that painted a picture of her cat and how meaningful that was
Journaling about the animal's Life Review and writing about all your adventures together – I often refer to my Pet Remembrance Journal that I filled up in the days and weeks after Sandy passed away.
So these tools are all food for thought. While my pack is doing well – I'd rather prepare and at least think about these beautiful ways to remember my four legged friends.