Letting Your Dog Make Choices
I had the privilege of working with Amy Herot in late June. She is one of the NACSW founder's.  
Training secrets is the theme for this week's Positive Pet Training Blog Hop! 
My training secret? – work on giving your dog choices.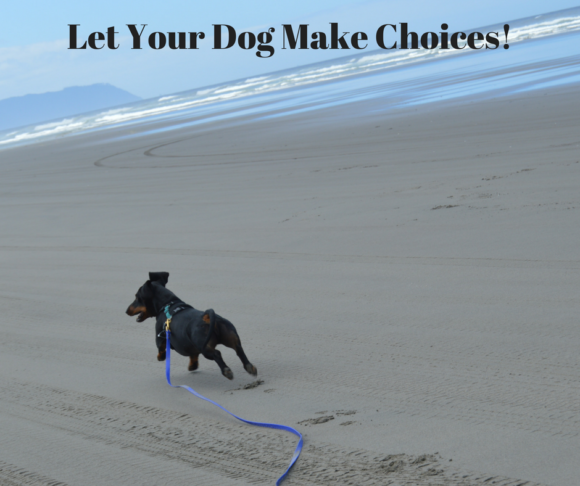 The Whole Dog Journal's article that I swear improved my relationship with Walter is all about making choices.
First read this article in WDJ – I'm going to share some highlights and how these tips improved my relationships with all three dogs! Pat Miller, CBCC-KA, CPDT-KA – writes frequently for The Whole Dog Journal and other training outlets about positive training methods. What really stuck with me was what I wasn't doing enough of for both Sherm and Walter. I think some of Walter's reactivity is due to the fact that his life was tightly controlled by me… he doesn't get to run off leash unless we're at the beach or somewhere it's safe since he can be reactive on leash with other dogs and off leash with larger dogs charging up to him.
Pat talks about promoting choice and empowerment with our dogs.
Do you let your dog choose the way when you go on walks? I do this on every walk now with the dogs – when we get the end of the driveway I let them decide which way to turn and this is how we walk at the end of the day!
How about you pick! Up on the sofa? Inside or Outside? Which food bowl? Puzzle Toy? I actually filled a bowl with Yaks and Walter picks the yak he wants which he LOVES.
Do you want to work? If Walter is agreeable when I ask him to work on a task – like go to your mat, then we continue. If he's reluctant than the activity stops. Or I initiate a new activity.
Overall – the goal is to increase their behavioral health. Pat explains, "perhaps we can help our dogs be emotionally healthier by finding ways to give them ore choices in their world." YES! Try this and comment on whether it works for you all.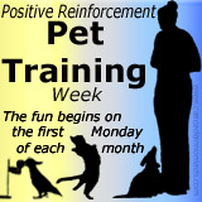 I'm so excited to join the Positive Pet Training blog hop with Tenacious Little Terrier, Wag 'N Woof Pets, and Travels with Barley. Please join us in this hop by posting your positive pet training stories. The hop remains open through Sunday. The theme this month is "Training Secrets" – join us!