Local Author Launches "The Animal Lover's Guide to Changing the World"
(You can win a copy of this book simply by entering in the contest below. Read to the bottom of the post). #ad 
AND This is a virtual blog hop book tour! Check out the book reviews from my fellow bloggers -the review will appear during the following dates: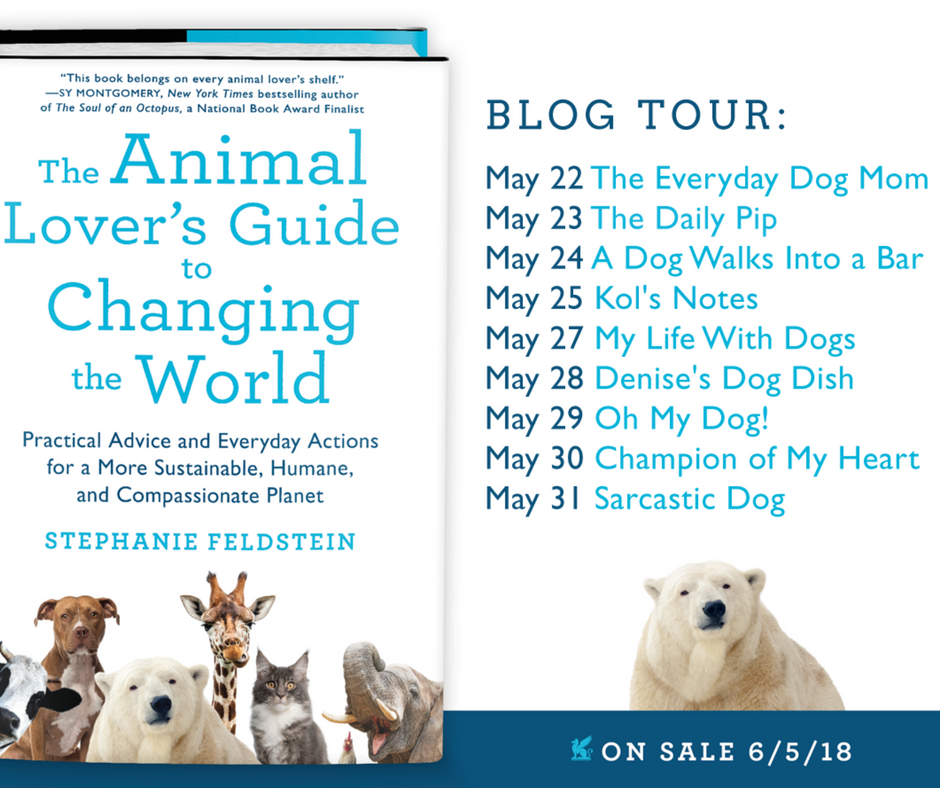 One word comes to mind after reading this book, compassion.
I had the pleasure of meeting the author, Stephanie for coffee to discuss her guide. I interviewed her about the book and what inspired her to write it!
There is so much to love and you will certainly devour it. She had me at:
"Getting politically involved on behalf of animals is all about making your voice heard. Keep a cheat sheet of all your representatives' phone numbers—from city council to Congress—so you're prepared to call them when an issue arises." (page 34)
And…
"When you reach out to companies—whether it's the first attempt, a public post, or recruiting others to contact them—let them know what you once loved about them and how they betrayed your love. Losing a loyal customer hurts a lot more than a complaint from someone who clearly never planned to give them money in the first place. Many animal lovers have long appreciated that Starbucks is vegetarian-friendly and the major- ity of its drinks are easily veganized. So, when they learned that the Strawberries & Créme Frappuccino and other pink products were colored using crushed bugs (listed on the ingredient label as cochineal extract), thousands of customers signed online petitions and contacted the com- pany to express their disappointment."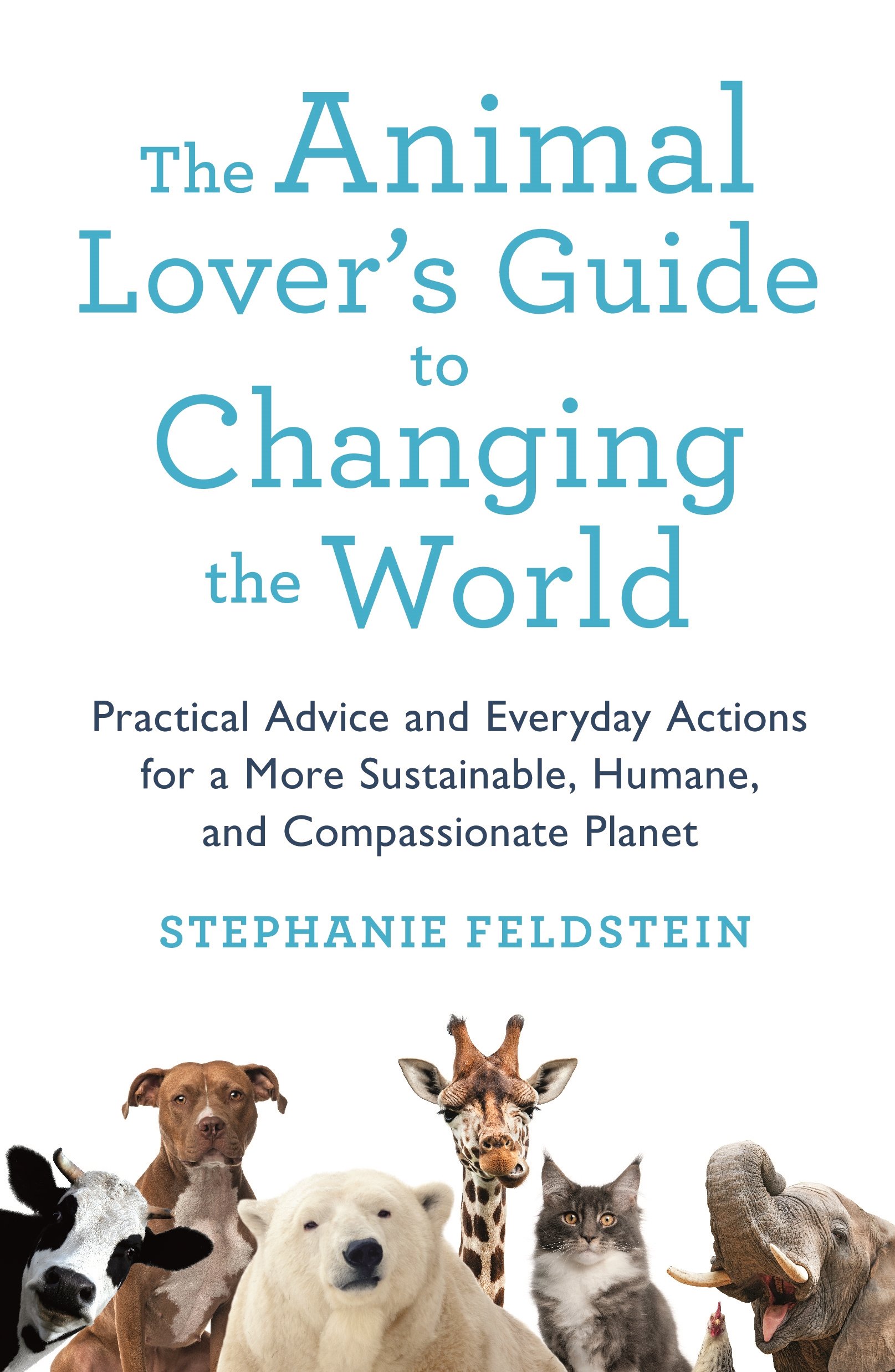 What I love about it is how practical the advice is for animal lovers. And Stephanie isn't only compassionate about animals but also about the people that care for animals. Most people don't consider how important this last point is – sometimes it's the people that need "saving". Be kind to one another is a common theme throughout!
So let's dive right into a Q&A that provides readers with a sneak preview of the book.
Q&A
"The Animal Lover's Guide to Changing the World"
Q1. I love these action alerts – Which Action Alert(s) in your book do you think will have the biggest impact on readers?
A1. One of the chapters that she thinks will have the greatest impact on readers is Chapter 3.
"This chapter really focuses on the connection between people and animals. And how important it is to care about the people involved. If the people involved need help then we should be compassionate. When their animals are suffering, things are so much harder and more complicated. It's not a competition when it comes to caring for animals. And judging and attacking others doesn't solve the problem."  
The theme is to help lift people up by helping them be better animal advocates.  
My FAVE action alert? I'd love to start an Animal Lover's Book Club.  
Q2. That said, what inspired you to write this book? Why did you decide to write this book?
A2. Before she started working for the Center for Biological Diversity, she worked at Change.org and many of these topics Stephanie had been working on in her role there.
"I wanted to write a book to help people make connections across a wide variety of issues. And making more of a difference for animals was of course the main goal. This guide provides a framework for these issues and the actions people would take were all in my head so distilling that down into this book was easy."  
Q3. I feel like I found my pack when I started blogging and met other animal bloggers – what advice do you have for folks from that chapter if they haven't seen/read your guide yet?
A3. "As far as finding your pack, it's important to focus on the thing that you're most passionate or excited about. For example, working at a shelter or bird watching. And once you identify those you should start looking for those communities. Some can be found on social media! Focus on what gets you most excited without overthinking it. And you'll find people that have that same passion."
Q4. Greening your pets is such a cool concept and I know Zero Waste is something being written about in the pet world – if readers can only take away one bullet from this chapter, what would you like that to be?
A4. "Stop making your pet an accomplice to your overconsumption."  
"Example: If you're on a walk you need you need a poop bag. But there are also things they don't need. Remember that pet stores are designed for people not your pets! Your pet doesn't need to be in a "toy of the week" club. Rotating toys will make them very happy. They simply want your attention."  
"For cats – throw a box on the ground!"  
Q5. I love your chapter on guilt free gifting. What would be on your revamped gift list?
A5. "So, I would say the biggest thing I've come to appreciate is experiencing gifts. And it doesn't need to be something super expensive. Plan a day where you go for a hike on your fave trail. I don't love to cook, so making me a Vegan dinner is the best gift! So something meaningful planned for each other."  
Q6. What three main points do you want my readers to know about?
A6.
I want people to see it as a book of opportunities – it's easy to get overwhelmed. I want people to recognize that there IS a lot that people can do and there a lot of opportunities to make the world a kinder place for animals.  

Greening your pets: Be more mindful about how we consume everything that we buy as "use" has an impact. The impact on wildlife for example. Take a step back and think about what we're purchasing and consuming.

I hope people realize after reading this that there are a lot of animals that need our help, and that there are a lot of commonalities when looking at many different species. I want readers to make connections with other animals beyond dogs and cats through these chapters.   
Q7. What other current and future projects do you have in the works?  
A7. "I'm working on a piece that is sort of taking a deeper dive and look at the themes that are in this book and taking it a step further. And how you can start to make changes in your life even if you're a really busy person.
I'm also working on a young adult fiction book."
Resources:
Have Stephanie sign a copy of her book at Powell's at Cedar Hills! This book signing is scheduled at Powells at Cedar Hills Crossing on 

June 14

. 
"The Animal Lover's Guide to Changing the World" Book Giveaway