LOST: On the Salmon River Trail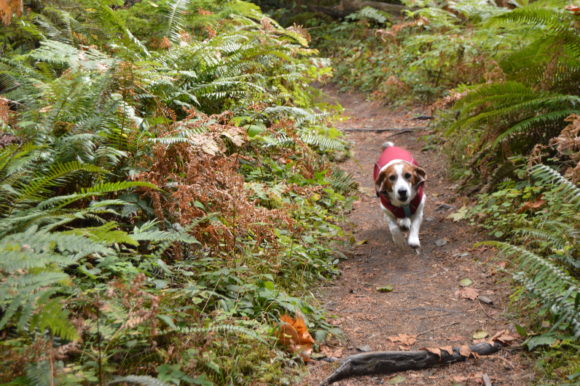 Has this ever happened to you when you're hiking with your dogs?  This is a true story followed by some important tips about what to do if this happens to you:  From how I imagine Shermie felt…
So, we went hiking over winter break and Mom and Dad took us to the Salmon River Trail. This is by far my favorite hike but this time a scent took me off the trail and out of my comfort zone.
I picked up the scent and ran quickly – I knew that dog had been there recently and my number one job was to track him. Over a log and branches, the scent was fresh — where did he go? The forest smells were overwhelming but nothing could take me off his trail.
WAIT. All of a sudden, I realized just for a split second that Mom and Dad, Bruiser and Walter were NO WHERE. They were behind me, right? I turned around and started to back track down the trail and I was terrified. Then I could hear them calling my name but their voices were full of angst and Mom sounded anxious. And then a few seconds later I was back with them all.
I wasn't surprised that the leash was clipped onto my harness immediately. I had to immediately lay down and catch my breath. I was back, safe… it was fine that my off leash privileges were taken away. I hate to say it but it'll happen again, I just cannot help myself.
_____
What if this DID happen? Do you have a plan on how you'd find your dog? Here are some FAQs:
How's your dog's recall? Have you taken a class? Try this: a reliable recall
Is your dog micro-chipped?
Do you have a GPS device you can use during hikes? Whistle, Garmin – there are a lot of brands to choose from. I'm saving up for a Garmin as those are clearly what hunters use.
DON'T PANIC. Your dog doesn't want to run away from you – stay on the path.
IF your dog is lost: here are some rules of engagement 
Bottom line is: Keep a leash on your dog if you cannot trust them. Sherman has been trained and it's very seldom he wanders off without a check-in. I trust him. On the other hand, I don't trust Walter as his nose takes him where he wants to go so without a Garmin, he stays on leash. And even then…
*it's hard to see but Walter is on a leash -long line- below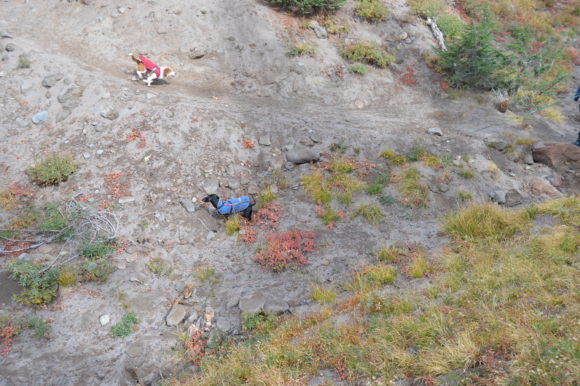 LOST: On the Salmon River Trail https://t.co/KHmBqZ6JA3

— christycaplan (@christycaplan) January 21, 2016