A Mellow Dog is a Good Dog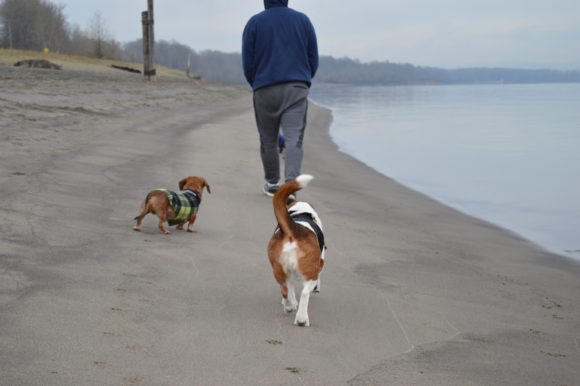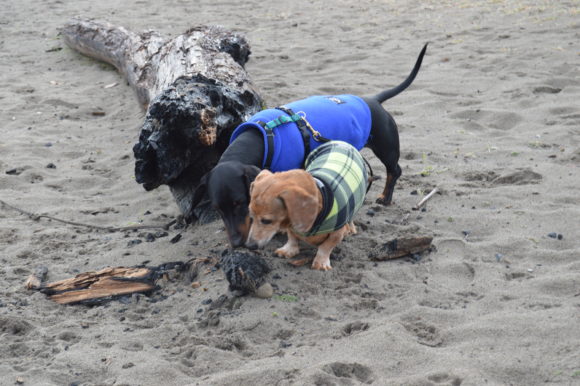 Do you have techniques and a relaxation program for your dogs? 
And you don't need a beach but it helps to burn energy. Our pack just does better when they're tired (that's both a mental and physical "tired").
Whether you burn energy with your dogs on a pack walk or have "at home" exercises – I remembered a relaxation technique I recently learned from our trainer that specializes in behavior that I wanted to share with everyone. I do this with Walter each morning and it's great when I need him to really focus.
(Walter goes to a trainer and we walk through reactive leash management about once a month  which is where we learned this).
Super easy – FIVE steps: *I cannot take credit for this – the exercise was recommended by Synergy Behavior Solutions in Portland. Lure your dog into a relaxed down. I learned that this actually means he/she should be rolled onto one hip. I typically lure Walter into this position.
Work with them at whatever distraction level (see below in next bullet) they're ready for — Mark and reward. We use a clicker.
Distraction level: While in a down – reward every 1-3 seconds for ten treats then move onto every 2-5 seconds, 4-8 seconds, release
If your dog gets up before released then calmly lure back into a relaxed down and try for an easier step.
Then say "free" in a calm voice and walk away! We do this for 30 seconds every day – max.
And take them for a hike! We went to the river and had a blast on a dry, rare morning.