My Life With A Senior Dog: Bruiser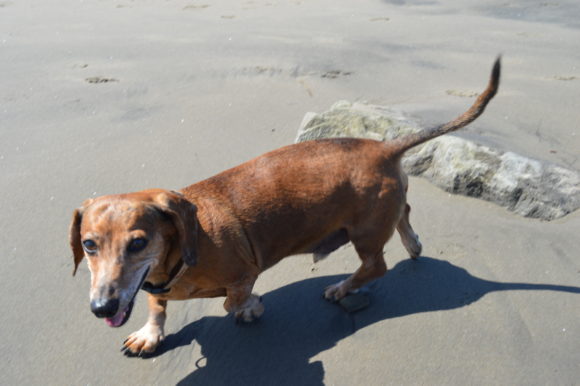 Early on in life, Bruiser, was diagnosed with disc disease. Our vet recommended we try Acupuncture and we've never looked back! Every three weeks, he receives his treatment from Dr. Jester at Natural Healing Veterinary Acupuncture. Now that he's older and still really active, he needs tune-up's every three-four weeks. It makes a big difference. We started these more regular sessions over a year ago as I noticed he was stiff and thought his arthritis was perhaps returning with the wet weather. For many years, we also visited our vet, Dr. Yung, who has been Bruiser's lead veterinarian for almost ten years and practices Acupuncture as well.
More about Acupuncture:
Acupuncture is the insertion of very fine sterile needles (0.16 to 0.3mm diameter) into specific points along the body.  The stimulation of these points causes local muscle relaxation, release of natural pain-relieving hormones such as serotonin and endorphins, increased local circulation, and blockage of pain signaling in the body. 
I pulled this quick fact from Dr. Jester's Website. The needles are so fine Bruiser barely notices them at all and almost always falls asleep. What I didn't know is that Acupuncture is great for not only back pain but liver disease, kidney disease and inflammatory bowel disease which Bruiser was also diagnosed with last year. If your dog is experiencing pain, talk to your vet about some other alternatives to pain medication as I'm confident Bruiser lives without pain as a result of these treatments and I don't have to use drugs like Tramadol or Rimadyl. It's worth a try, right?