2016 Pet Blogger Challenge: Bare All
This is the official post for my first Pet Blogger Challenge! Thanks so much to Go Pet Friendly: Take Paws blogger for hosting this.
Sidebar: This is a blogger centric post so if you were hoping to learn something about my life with dogs, we'll return to that content shortly. Thanks for reading! This is more of a Q&A about my blog…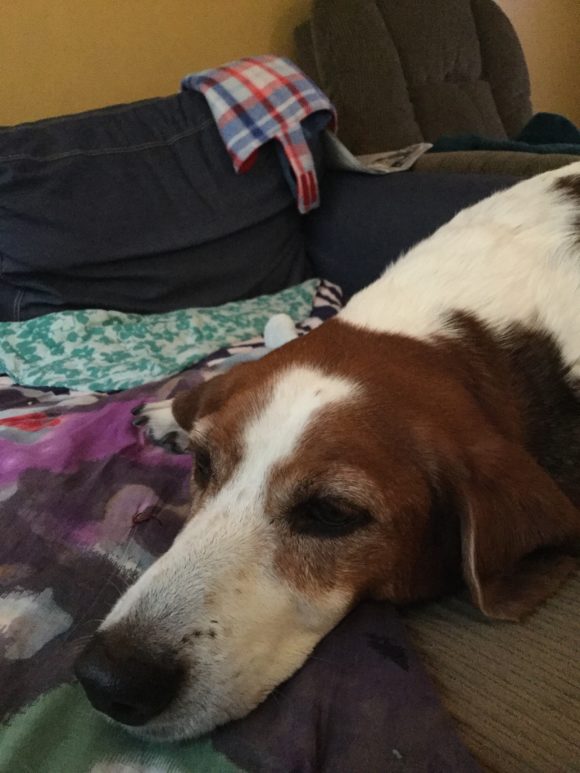 This is Shermie… 
Here are the questions for the 2016 Pet Blogger Challenge:
How long have you been blogging? And, for anyone who is visiting for the first time, please give a quick description of the subject of your blog.
I started this blog in 2008 and last year decided it was time to bring it back to life. I live with three hounds – two Doxies and a Beagle/Basset Hound mix. They are constantly teaching me lessons about life and pointing me in the right direction in subtle ways. This blog focuses on my life with dogs as I hope what I've learned can be passed along… In 2012, I became a Certified Veterinary Technician as I wanted the knowledge and hands on learning experiences of a CVT so that influences the content as well.
Shemie, a reactive hound, has changed my life and he also inspired me to get this blog up and running…
What is the one thing that you accomplished during 2015, either on your blog or because of it, that made you most proud?
I picked up the pace of posts and really solidified the cadence. Now I need to hone in one the stories/posts I want to write and have a better idea what folks want to know about.
Which of your blog posts was yourfavorite this year and why? (Please include a link.)
http://mylifewithdogspdx.com/my-dogs-yelp-review-our-trip-on-mt-hood/
I'm trying to tackle more creative writing so this was my first attempt and it was super fun to write.
A common theme from last year's challenge was that many of us wanted to increase the size of our audiences. Whether or not we intend to monetize our blogs, it seems we'd all like to reach more people. It feels good to know that we're connecting with others, sharing a laugh or supporting a cause, and it's motivating to see those numbers grow! What is one thing you've done in the past year that has brought more traffic to your blog?
I decided to add the best quality photos I could take and invested in a nicer camera to take on dog adventures. I think photography is really key and I've learned that from the Blog Paws community so this is an area I'm focusing on this year.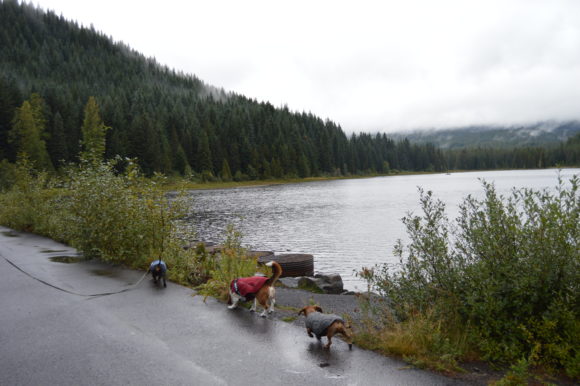 Which of your blog posts got the most traffic this year? Why do you think it was so popular? (Please include a link.)
These were the top performing posts (thanks to the Blog Paws community I just went through this exercise!)
It just demonstrates that if I add a creative spin, I'll have a better chance perhaps of the post being shared. I'd love others to comment on why they think this is the case.
My Dog's Yelp Review: Our Trip on Mt. Hood – this was a creative writing piece so perhaps that's why… http://mylifewithdogspdx.com/my-dogs-yelp-review-our-trip-on-mt-hood/
Holiday Stockings: Last Minute Ideas –
Happy New Year: A Wrong Turn?
21 Days of Rain: K-9 Nosework is a MUST for Busy Dogs
What is one blog that you read religiously – other than your own – and what makes you such a devoted reader? (Please include a link.)
I'm a big fan of Carol's blog: http://fidoseofreality.com/ and Jessica's blog: http://youdidwhatwithyourweiner.com/
While they're both really different, they both do an excellent job with content. I handle content strategy marketing for many of my PR clients and these are blogs I use as examples all the time.
What resources do you rely on to enhance your technical, writing, photography, social media, or other skills that improve your blog?
I take a writing class every Wednesday and learn from others as we have writing prompts the instructor provides which helps a ton. I'm also following a lot of social media marketing blogs too so looking at those for myself but also for my clients.
Join Blog Paws.
What is the best piece of advice you can offer other bloggers?
Don't be intimidated – this pet blogging community is full of folks that want to help and I've found the Blog Paws community to be an outstanding resource.
Use the community to educate yourself on areas you need help with.
What is your vision for your blog in 2016? Do you have specific goals?
I'd love to create a newsletter BUT before I can do that I need folks to subscribe and sign up! So I need that to be a stronger call to action in my posts. I'd also like to start a manuscript based on the content of the blog so I'm exploring that too.
You have the attention of the pet blogging community – is there one blogging challenge you'd like help with, or one aspect of your blog that you'd like input on?
I'm having trouble focusing on what folks really want to read – I get a lot of comments when I post on holistic health and wellness topics but I have to be careful as a CVT to provide advice but stay away from anything a Veterinarian should be recommending. So I try to just stick to first hand experiences.
Is holistic wellness where I should focus my efforts? Is the creative writing piece a waste of time?
Thanks for reading! Thank you to the blog community for being so awesome!