Primalvore Bone Broth: A Review with Senior Bruiser & the Hounds #ad
#ad Disclaimer: This is sponsored. We are compensated from Primalvore as part of their blogger program in exchange for an honest review.  I only share information about products that I believe in and already fit into our doggie lifestyle and routine. Please use this promo code for 20% off any of the products on their site: mylifewithdogspdx.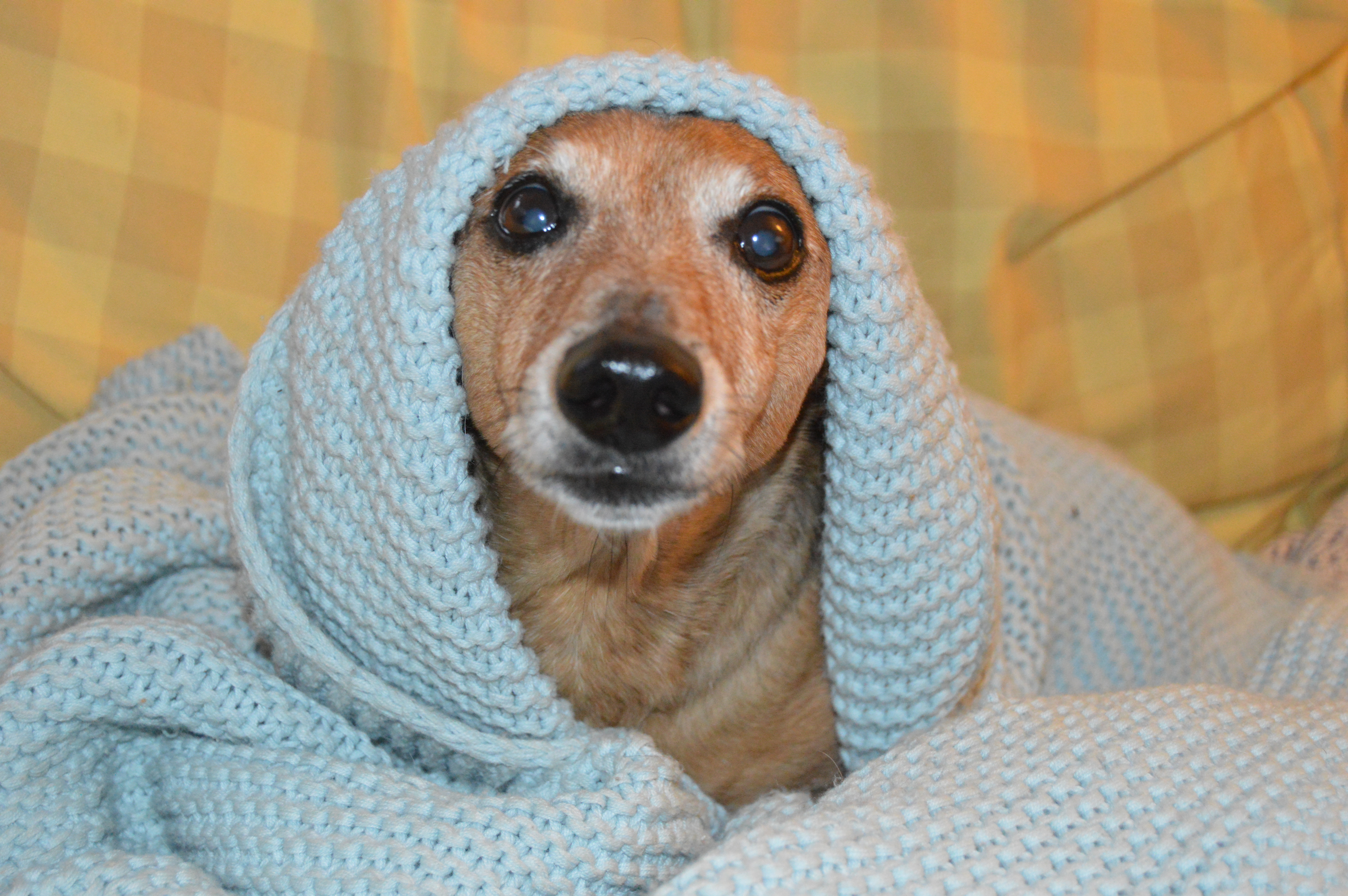 Bone broth is something to try and there are many reasons why. But what exactly is it and how do our dogs benefit?
I talked with the co-founder of Primalvore, Don Hensley about why their Bone Broth is different than other brands:
"Our nutrient dense bone broth is made using traditional methods, slow simmering bones and water for up to 20 hours to achieve deep color and rich, roasted flavor. "
What is Bone Broth?
Bone Broth is a superfood for dogs. Primalvore contacted me about trying their new products and we've been using the beef bone broth as a topper for my senior dog, Bruiser's freeze-dried raw diet. I typically re-hydrate with water but using the bone broth has been a delicious addition to his meals.
One of the ingredients Primalvore uses are collagen peptides, the most bio-available form of collagen. The nutrients in collagen peptides are nourishing and easily digested. The specific collagen peptides used in Primalvore Bone Broth for Dogs have been clinically tested to improve joint health in canines. The collagen is also a protein booster.
Organic tumeric is used too!
So I loved the combination of ingredients. You have to use the broth within 7 days after it's opened so we quickly went through the both bottles!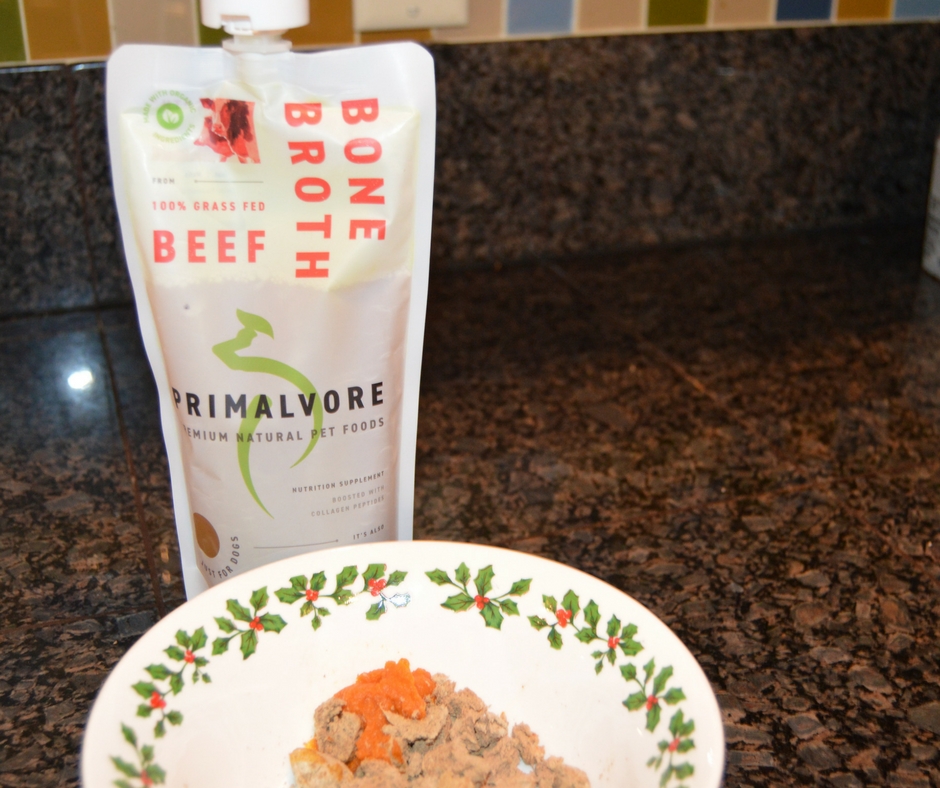 I went ahead and asked Don some questions about his product so readers can better understand what make a difference when it comes to Primalvore vs. the rest of the brands out there.
Q&A
Q1. Most popular flavor? 
A1. The big hit right now is beef, I think part of the attraction is Primalvore is the first and only bone broth for pets made with certified organic beef bones.
Q2. Collagen boost? Is this your differentiator? 
A2. It is, our ingredients include a specific group of collagen peptides clinically proven to improve joint health in aging dogs. Also we do not add any vegetables, although vegetables in dog treats and foods is on trend we prefer to cater to a dogs carnivorous nature, also we don't want to displace potential protein for sugars which naturally occur in fruits and vegetables.
Alternative benefits: *Based on my research, healthy hydration is a great benefit as pets eating dry food may not get enough liquid in their diets. Broth provides hydrating nutrients. 
"Broth has one other curative quality for dogs: it makes food smell and taste better! When your dog has a stuffy nose, she can't smell her food, and may lose her appetite. Make your dog's meal more appealing, and more hydrating, by adding some broth. In addition, make sure your dog drinks plenty of water while they're sick. Hydration is key to curing the doggy cold!" – Animal Wellness Magazine.
Q3. Special benefits people don't necessarily know about? 
A3. We also like to remind people that we are the fist Organic Certified Beef and Chicken Bone Broth formulated specifically for dogs. Our broth is also human grade, grain free and made in the USA. Our broth is also shelf stable, which means it does not need to be refrigerated until you open it, before you do our broth has an 18 month shelf life. We achieve this through our unique process, not with additives! Lastly we have very unique packaging. We are very proud of whats inside so we made the pouch somewhat translucent, it also has an easy open and close cap.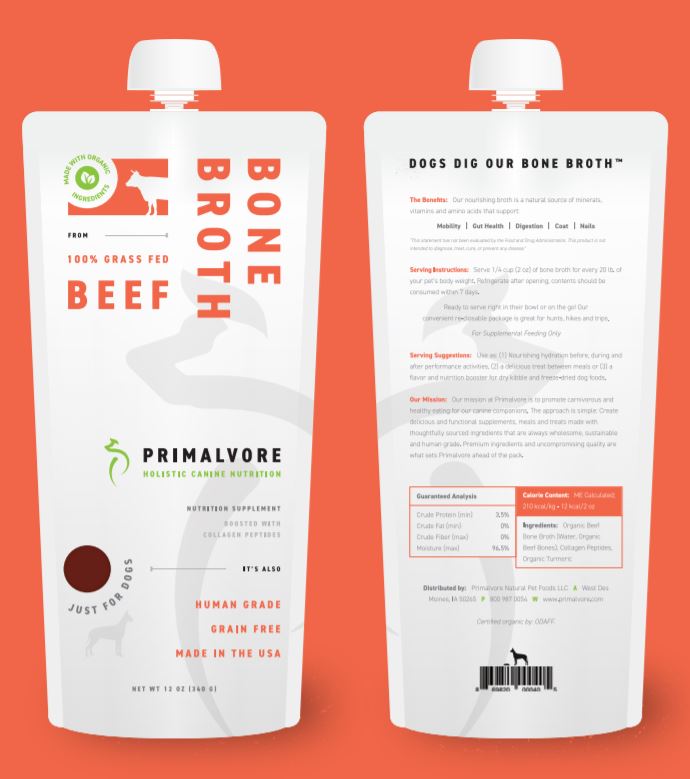 3 Core Benefits
These are main reasons I wanted to try this with Bruiser:
Gut Health
Liver Detox
Good for the joints
Plus it's good for the skin, coat and nails.
Toppers
It is nutrient packed! And can be used as a topper, a tasty beverage or to re-hydrate raw diets like Bruiser's diet.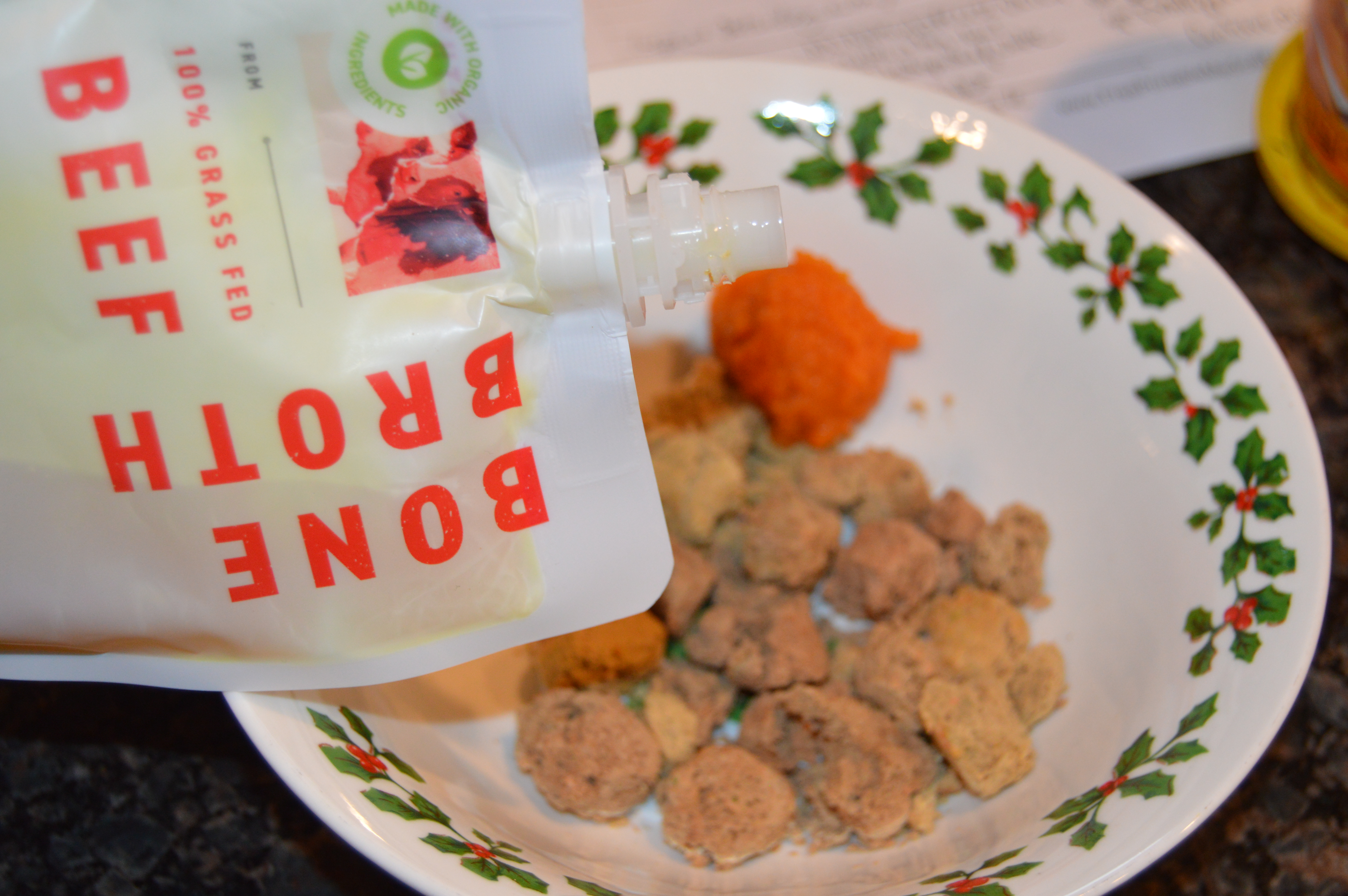 I'm not a Vet so please check with your Vet or tech when you start looking at bone broth brands for various health conditions.
Disclosure:
I received two bone broth packages (1 chicken and 1 beef) for my dogs in exchange for my honest POV. I only share information about products that I believe in and already fit into our doggie lifestyle and routine. 
Save 20% on Primalvore Bone Broth
Use my code! Please use this promo code for 20% off any of the products on their site: mylifewithdogspdx. 
#Pin me