Salmon River Trail Hike: Dogs and Salmon Are Running
A lazy September day we decided to hike the Salmon River trail and saw a group of Salmon headed upstream. We were told by another hiker that they have been there for days waiting to swim up the river and perhaps waiting for the river to rise. It was an amazing spectacle to see and we were happy to watch. We also hit the trail around Trillium Lake with the three hounds which they loved and was virtually empty of the normal crowds Trillium draws when it's nice out. Both hikes are easy and take less then an hour. The scenery is priceless even on a rainy day.
It's hard to see the Salmon in the above image but if you look closely – at least 7-8 are all in a group in the middle.
Dog rules for the trail:
Salmon poisoning: Don't allow your dog near Salmon carcasses. Remember that Salmon poisoning is dangerous. (Keep your dog on a leash as the edge of the trail is steep)
Don't race through it: I recently read that a dog breathes in and out around 15 times per minute when sitting. According to a review of "K9 Scent Training" – that frequency goes up to 31 times per minute when walking and when actively sniffing, it goes up to 140-200 times per minute. Let your dogs take it all in!
To wear or not wear a coat: I noticed that the drop in temperatures affected all three hounds so be sure to grab some coats – Ruffwear Dog Gear has great options for dogs spending some extended time outdoors.
Enjoy one of Oregon's seven wonders!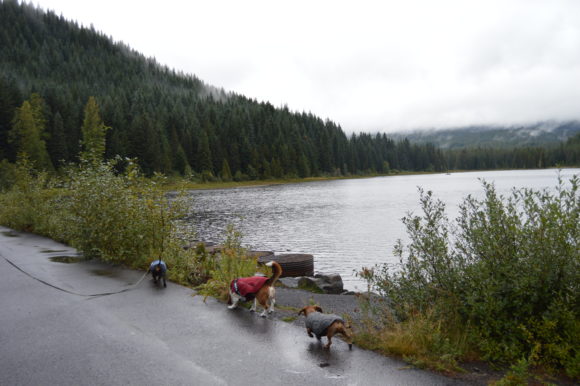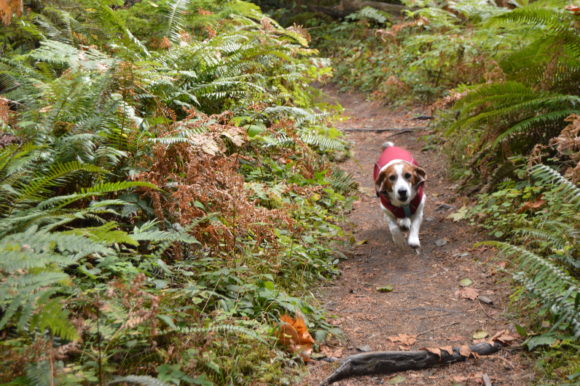 This is the path on the Salmon River Trail…