Snuffle Mat: Time to Hunt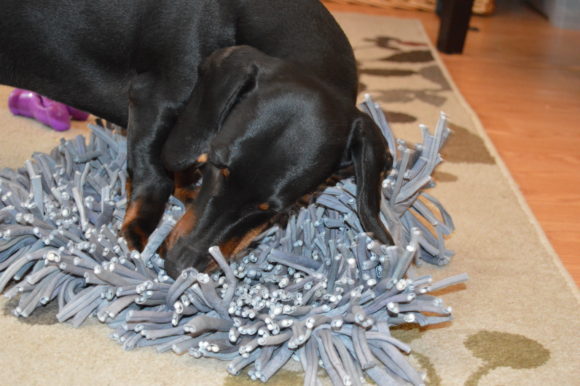 I didn't even have time to put the mat on the floor before Walter jumped onto the chair to start hunting! Good grief!
Training tools is the theme for this week's Positive Training hop. I'm focusing on training "calm" behavior through hunting techniques and nosework. Using the Snuffle Mat as my training tool, I'm teaching Walter that hunting is a great game to play and helps burn energy when our walks are shorter due to icy weather. Today the street is so icy we're holding off on walks until the temperatures increase so some of it melts and we can go back to our normal routine.
About a month ago, a few bloggers reviewed this Snuffle Mat so I had to order one and hop on the bandwagon. I have reviewed and tried a lot of puzzle toys so it's nice to incorporate a training tool that fits so organically into our routine.
Honestly, any tool that encourages natural foraging skills is perfect for our pack. I did a couple of videos with Walter and the mat below.
You can also make these mats and I found a great DIY Snuffle Mat blog post from Honest Kitchen if you want to make your own. Here's another.  I bought the Paw5 Snuffle Mat from Amazon.
This training tool teaches Walter, Shermie and Bruiser foraging techniques and how to use their noses.This way when the dogs are bored they don't look for ways to entertain themselves and get in trouble. So the snuffle mat is my new "go to" training tool and nosework always saves the day.
My thoughts on how to use this:
You can essentially just throw kibble or treats on top of the mat but I think "hiding" treats in the mat makes it harder for your dogs — Walter need the ultimate challenge.
Break your treats into tiny pieces: It's easy to make this hunting exercise last for awhile if you hide a lot of really small treats throughout the mat.
This game should be monitored – the fleece pieces can end up smelling like the treats and I caught Walter starting to chew on the fleece which he would ingest at some point. Not every dog would do this but Walter also chews blankets…
We use "find it" as our nosework cue so that's what I use for this game.
This may be obvious and your dogs probably share toys but my dogs need to play these enrichment games separately so nobody gets "guardy".
Positive Pet Training Blog Hop!