The Three R's: How CBD Is Helping Our Dogs #ad
Relaxing, repairing and restoring – is this too good to be true? Naturally occurring phytocannabinoids (CBD) are important for the overall health of dogs, cats,  humans, rabbits and all animals. And the use of CBD products with our animals help address these three R's.
Treatibles sent me a bag of the large treats for dogs over 50 lbs in the pumpkin flavor to try with Walter as he's reactive on leash.
It has 4mg of CBD per chew. The suggested serving is 1 treatible per 40 lbs. Walter is about 30 lbs and after talking to Treatibles about his reactivity I've been giving him one large treat per day before dinner and our evening walk.
Did it work? The short answer is yes!
For Walter it takes the edge off!
Given how well it works – yes, he still "reacts" but he's not as intense and the barking has decreased – that I'd like to try the CBD oil as I think it may work as well as the treats and perhaps even better!
I'm kicking myself for not considering CBD for July 4 – since fireworks are such an issue here, I'll be using the oil with both Walter and Shermie moving forward for these types of noisy holidays
What are Cannabinoids?
Cannabinoids are a group of chemical compounds present in both animals and in the plant genus cannabis, which includes both hemp and marijuana. The two most widely recognizable cannabinoids are cannabidiol (CBD),  which has a wide range of therapeutic applications, and THC, which is the psychoactive component found in cannabis and used in medical marijuana.
How do Phytocannabinoids Work in the Body?
All animals have an endocannabinoid system that assists in maintaining the physiological, neurological and immunological systems of the body. If there is a deficiency of endocannabinoid production, the system's multiple receptors will utilize the addition of phytocannabinoids to help create balance and provide support for relaxing, repairing or restoring. Naturally occurring phytocannabinoids are important for the overall health of dogs, cats,  humans, rabbits and all animals.
Dogs are especially responsive to phytocannabinoids as they have the highest concentration of  cannabinoid receptors in their brains and bodies compared to other animals, including humans.
According to their Communications Director, Jodi Ziskin, "Treatibles works holistically, meaning that the whole pet experiences the benefits. The body's endocannabinoid system will utilize the phytocannabinoids as needed. A dog with mobility issues enjoying Treatibles may experience repairing, but also feel more relaxed, calm and balanced. A dog with anxiety who also has digestion issues may also experience a reduction in inflammation helping to restore digestive balance."
About the new flavors available: 
Question for Treatibles: When are the new flavors available? Are the Tater's Sweet Potato Tots the only flavor currently available?
Adds Ziskin, "Our new line of grain-free hard chews, which includes newly formulated pumpkin, blueberry, turkey and the very special Tater's Sweet Potato Tots, will all be available by mid-August. Currently, the Tater's Sweet Potato Tots can be purchased through Treatibles.com and will be on store shelves along with the other flavors in mid-August."
Also on the radar for Treatibles! 
Treatibles has partnered with Villalobos Rescue Center (you may recognize the Rescue from an animal focused network's hit show about rehabilitating Pit Bulls and people)  to introduce Tater's Sweet Potato Tots ™ by Treatibles, a new grain free chew  that will benefit the New Orleans-based Rescue. One dollar from each bag sold will be donated to help cover veterinary expenses at Villalobos Rescue Center, whose annual veterinary costs average $500K.
Here are the ingredients in the new line of chews –
Pumpkin Chews: Chickpea Flour, Pumpkin, Coconut Oil, Hempseed Oil, Tapioca, Molasses, Kale, Cinnamon, Turmeric, Sunflower Lecithin, Hemp-derived Phytocannabinoids
Blueberry Chews: Chickpea Flour, Pumpkin, Coconut Oil, Hempseed Oil, Tapioca, Molasses, Blueberries, Cinnamon, Turmeric, Sunflower Lecithin, Hemp-derived Phytocannabinoids
Turkey Chews: Chickpea Flour, Sweet Potato, Turkey, Coconut Oil, Hempseed Oil, Tapioca, Molasses, Cinnamon, Turmeric, Sunflower Lecithin, Hemp-derived Phytocannabinoids
Tater's Sweet Potato Tots: Chickpea Flour, Sweet Potato, Coconut Oil, Hempseed Oil, Tapioca, Molasses, Cinnamon, Turmeric, Sunflower Lecithin, Hemp-derived Phytocannabinoids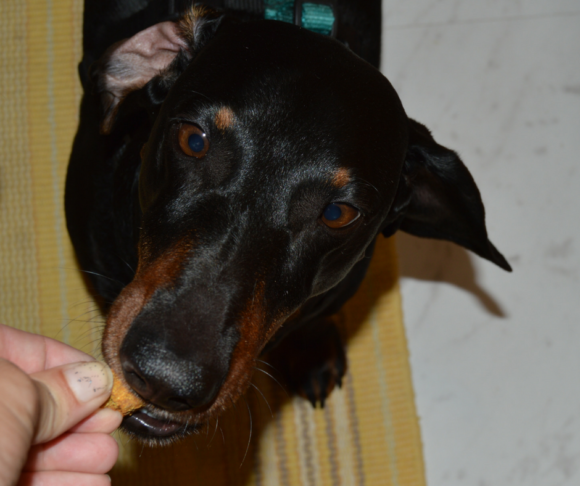 pin me
Disclaimer: We received these products from Treatibles as part of their blogger program in exchange for an honest review.  I only share information about products that I believe in and already fit into our doggie lifestyle and routine. Treatibles did not compensate me for this post.   #ad