Top Five Reasons Crate Training Works For Us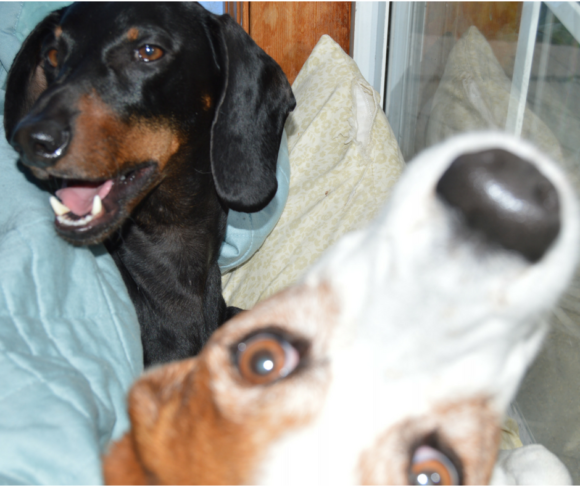 What! I love my crate!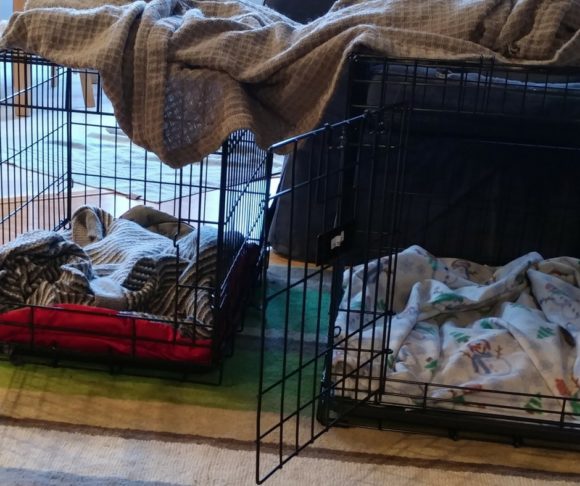 Top Five Reasons Why Crate Training is Essential: 
I was inspired to write this because today the handyman came over to help me fix our upstairs toilet. All three dogs typically get crated behind a baby gate but it's chaos. They howl and bark and no matter how many "look at me" games we play this system doesn't work. It's also stressful for the dogs, the guy upstairs and me!
Don't get me wrong, it took me years to crate train Shermie. Read this post written from Victoria Stilwell. There are many ways to crate train using positive reinforcement and it's all about patience and yummy treats. Sherm was fed in his crate and spent short periods of time in the  crate with the door open for months before I ever even closed the door!
Crates are a safe place for my dogs: I can give them Kongs filled with food and treats and no one will guard these or get snarky with the others
Crates can be covered with towels or blankets: This visual barrier is a great tool so while they can "smell" company – taking the visual element away is helpful
Crates keep the dogs calm: Rather than barking and running up to the baby gates, the dogs have a place to hang out and everyone is CALM.
Crates keep the dogs safe from visitors: I don't expect people coming in and out of the house to know how to greet dogs appropriately and read my dog's behavior. It's not their job…
Crates can be used in the car as well: All my dogs ride in crates in the car. This has proven useful for many reasons. Most important, other dogs are basically blocked from their view out the window so they don't bark and react.
The videos below look at my "treats for crate time" and then demonstrate how calm all three are when crated while the Handyman is upstairs working on plumbing.
Have you found crate training helpful? Do you have other methods to keep your dogs calm when visitors come over?
Resource: Victoria Stilwell's article.