Training the Humans: Is Everyone On The Same Page?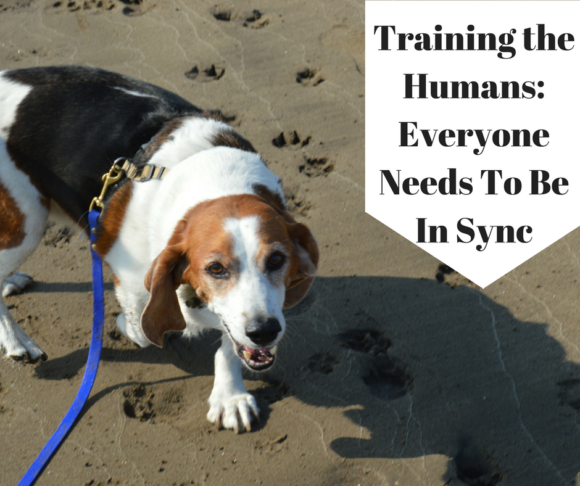 August's Positive Pet Training Blog Hop theme is: "Training the Humans". How do we get strangers or even our own family members to help and not hinder with training?
So! I'm excited about this month's topic.
Here's why! I've learned a lot about how to train my family (husband) as we have two dogs that are reactive on leash and the leash training needs to be SUPER consistent. That not only means my husband but our dog walker and pet sitters.
Top Five Ways to Ensure the Humans are Trained:
Make it easy: notify all humans what the rules are and where the "good stuff" or training treats are kept (for us this is strip cheese and deli turkey) so no one leaves on walks without lots of treats.
Agree to some basic commands and a marker word: Our marker word is yes! Treat = yes. Everyone is also required to ask for sits at corners and look at me games when Walter and Shermie are walked. That's it – two games are played while they're out and about but it only works when all the humans do this regularly.
All the humans also use, "all done!" when it's time for training or playing to come to an end. We even use this when we're out of treats and ready to relax on the couch.Pat Miller writes a great article in Whole Dog Journal about this.
Something we're doing lately is ignoring Bruisy's attempts to get treats when he demand barks. Bruisy is old and it's REALLY hard not to just give him what he wants but we had to put a stop to this demand barking so it's ignored by all of us humans.
Routine is the best medicine for our dogs: The most important training for the humans is to keep the routine for the dogs whether someone is traveling or has a super busy schedule that day – that is non-negotiable!
Thank you to….I'm so excited to join the Positive Pet Training blog hop with Tenacious Little Terrier, Wag 'N Woof Pets, and Travels with Barley. Please join us in this hop by posting your positive pet training stories. The hop remains open through Sunday.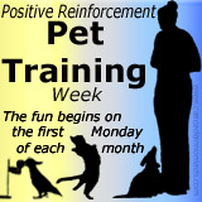 Pin me!