The Trench Coat: Winter Is Here To Stay
Trench Coat: SAVING Shermie this winter
My Life With Dogs PDX received the Trench Coat for an honest review.  We did not receive monetary compensation to review/promote this product.  We only accept products that we use ourselves, believe our readers and ourselves will benefit from learning more about & feel you will enjoy.  #sponsored
Winter is here. Yes, this is a review for Teckelklub. My dogs have been wearing their Fuzzies and coats for many years and I'm a huge brand advocate. Before I go into detail on why I love their Trench Coat I want to talk about some winter best practices. The past eight weeks have been challenging as we've been under or at freezing temperatures for weeks and that's not normal here… at all!
Tips:
Layer: Add a fleece beneath the coat or jacket for your dog if the weather falls below freezing.
Snow packed or are you dodging huge piles of snow? We don't have plows here (I know…) so our dogs are leaping over piles of snow everywhere on their walks – so don't overdo it with your dog if they're older or perhaps just not used to the new agility course in your neighborhood.
Do you have a reactive dog? Given the weather – my routes have changed and I walk two reactive dogs (separately) but I've been caught a few times with other dogs coming towards me when typically I can u-turn. Consider a new route while the weather presents challenges.
Indoor games: Yes, we've been loading up the puzzle toys this week especially. Have these ready!
Watch falling branches and snow! It didn't occur to me that even though it's below freezing and the sun is out that a brief thaw is even possible – we had some snow and branches fall on us when I was looking… set you and your dog up for success… lol!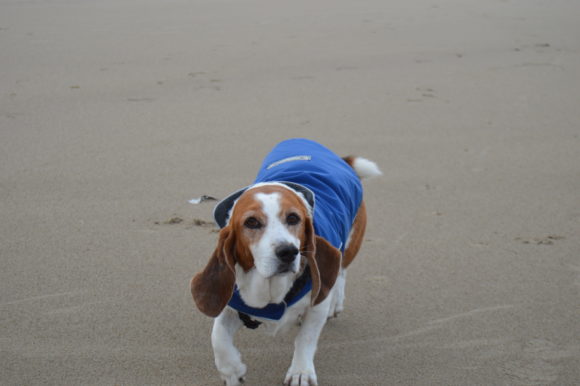 OK: About The Trench Coat!
Teckelklub's Trench Coat fits all breeds from 9" in length through 31" and is the original waterproof jacket the company designed. As you can see it fits Shermie very well and he's a beagle/basset cross so long with a deep chest. It's hard to find coats that fit him well.
As I mentioned previously, we are having record snow fall here (the most since 1980!) in Portland this week so I've been layering Shermie's Fuzzie underneath his Trench Coat and it's a great combination that is keeping him warm and dry.  It's a great alternative for snow but we use this coat mainly for rain.
What I love about the Trench Coat:
Made in North America – so many products are NOT.
The fabric is super durable. The original Trench circa 1998 is still seen in the Vancouver trails!
There is a fleece lining to maintain your dog's natural temperature while protecting the dog and your home / car from dirt and water.
Since it's so dark out in the morning when we walk, I love the reflective piping and tape that raises the visibility.
The windproof, waterproof layer can help keep dogs warm and protected outdoors the same way we like to be. Sherm is super comfortable in his Trench even in below zero temperatures.
Giveaway/contest: We're giving a coat away to a lucky reader! Enter below –My Life With Dogs PDX will notify the winner to determine measurements, and more details about the product can be found here: https://www.teckelklub.com/the-winter-trench-waterproof-dog-coat/
Some history:
Teckelklub's Trench made its debut in 1996 on Zoe the founding member of the Teckelklub pack https://www.teckelklub.com/about-us/.
As a mini dachshund Zoe was short haired and tiny. She needed some encouragement to head out in the cold and wet. The idea of a cozy warm and waterproof jacket was put into action. Its popularity spread organically as dog owners in Vancouver that saw the coat wished they had one of their own. Teckelklub harnessed that momentum and in 1998 launched The Trench which gained huge popularity in Vancouver and Seattle, and quickly spread throughout the Pacific Northwest. Teckelklub has stayed true to its socially responsible roots and manufactured all its products in Vancouver so it's all North American made quality. Teckelklub is proudly worn around the globe.
Resources: https://www.teckelklub.com/the-winter-trench-waterproof-dog-coat/
Key Features & Benefits
Very high breathability and air permeability
100% waterproof and warmth lined with fleece
Easy-on, easy-off fits all breeds
Made in North America