Walter's Fourth Birthday: Kindness to Animals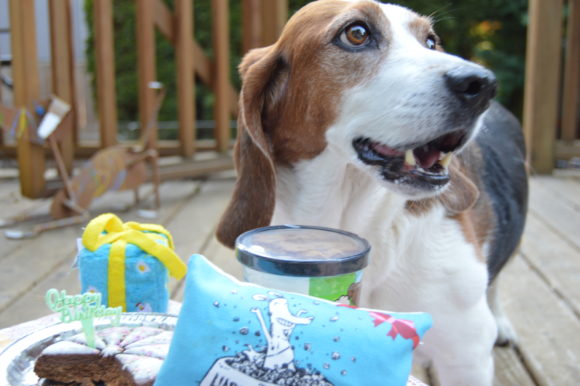 Acts of kindness this month? Looking for ways to enrich your dog? In celebration of Walter's birthday month I wanted to share some ideas! 
Place kibble or treats inside muffin tins and cover them with tennis balls – voila! puzzle toys!
One of the tips trainers, Cinthia Alia Mitchell and Nicole Nicassio-Hiskey talk about in their wonderful book are the impact puzzle toys have. Part of "Be Kind to Animals" month should involve in some enrichment ideas for your dogs. Whether it's finding some puzzle toys like the Nina Ottoson we have in our house OR simple freezing yogurt into Kong's so your pack has something to occupy themselves when you leave the house are all ways to keep everyone happy!
Offer fruits and vegetables – did you know that carrots are a super food for dogs?
There are great veggies for your dogs and they're all awesome snacks. Did you know carrots are a "super food". Try cutting them up and using as a kong stuffer.
There are other foods of course that are great like Sweet Potatoes.
Pop up tunnels and tents are great areas for dogs to explore
As the pet parent of two doxies, we love tunnels! Not the type they can dig themselves but tunnels you can put in the backyard or even your living room. Some of these look like agility tunnels but they're just small ways to enrich your dogs on a rainy day. Look here for more details: https://www.dogtunnels.net/ – they have different sizes for different breeds
Let's call this environmental enrichment. There are a lot of great activities that fall into this category and perfect ideas for this week!
A sniff walk – let you dog sniff EVERYTHING on their walk and make it about that vs. rushing through their morning walk before work
This is why we do Nosework. Nosework gives my dogs a job and it's the greatest form of enrichment. They love the hunt and it's low tech. I recommend looking at classes in your area but once you watch your instructor you can work on containers at home. My dogs even search for odor on vehicles in our driveway. This is a great sport that ALL dogs can participate in including dogs like Shermie – that are reactive on leash. This sport is a "one dog at a time" sport. So dogs don't interact.
Ride in the car! Take your dog with you on a cool day when you're running errands and let them experience some daily adventures with
you! How easy is this!