National Dog Walk Week: Ways to Light Up Your Dog Walks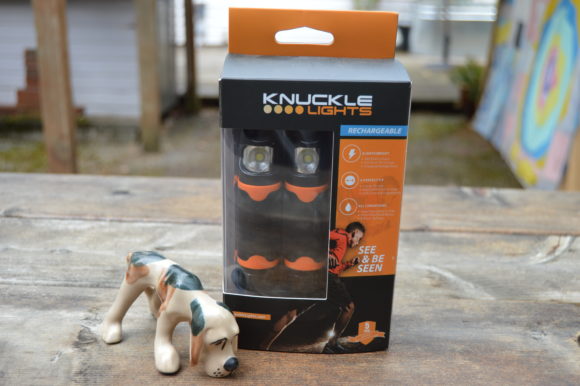 Knuckle Lights
#sponsored (I was given a pair of Knuckle lights for an honest review so I reviewed them as part of this round-up. The other product I bought on my own and the collar I haven't personally tested but it gets awesome reviews).  
It's National Walk Your Dog Week! In celebration, I reviewed three products now that it's dark by 7 p.m. Where did the summer daylight go? All of a sudden I found myself digging through a basket of older reflective lights I can typical snap onto the dog's coats or collars and all of them were either out of juice or just broken.
So! I included one collar as I thought readers would enjoy a collar option and Whole Dog Journal reviewed the product and recommended it as 2016 "gear of the year". The other two products are also unique compared to the products I've tested over the past ten years or so…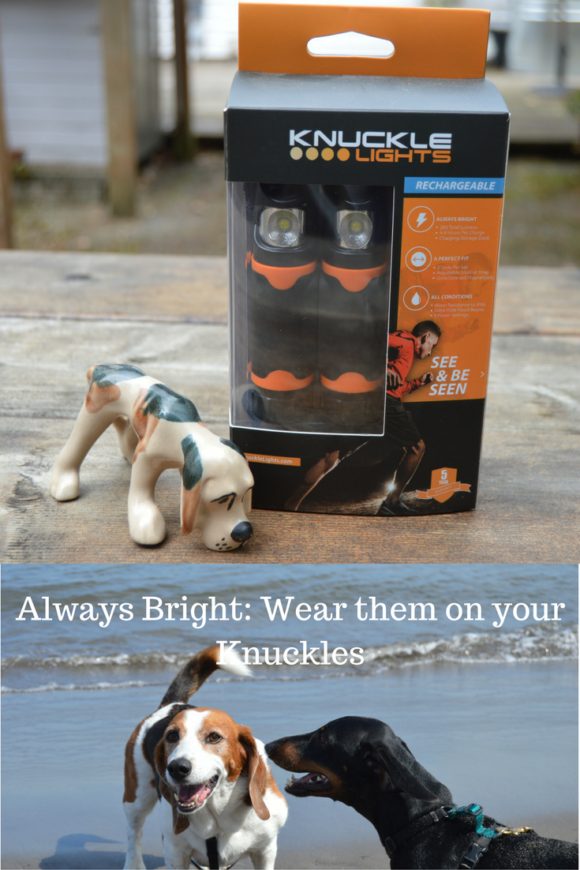 Pin me
These Knuckle Lights are created for runners. They are worn around your knuckles and the adjust to any size hand. They withstand any condition which is great as it's already pouring here so that's an added bonus. I like them so much I use them when I let the dogs out in the back before bed. The light(s) are SO much brighter than my headlamp which honestly I hated wearing and having to rely on for all my walks. They sit on a charging base when you're not using them. Let's just say I'm a big fan now.
They retail for $59.99 and you can buy them on their site.
There is a strap that goes around the dog's neck and the dog's girth. Your dog can wear this in combination with anything else they're wearing and there is no leash attachment. As you can see in this image, the lighthound can be lit up in a variety of colors too. I also found out about this product from Whole Dog Journal back in January so we have one for Shermie. It's really easy to put on. This is another great option when cars drive by too fast down your street as we have this issue on rainy night and I'm so happy to have the combination of this and the Knuckle Lights.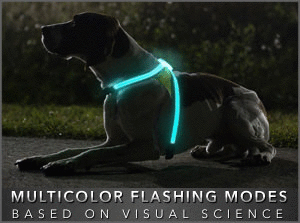 Photo courtesy of: https://www.noxgear.com/lighthound
I've seen a lot of LED collars and this one comes highly recommended. According to their site, some of the features are:
High-visibility Nite Dawg LED Collar features a bright red LED that illuminates fully around your dog's neck and also has passive reflectivity striping for optimum visibility.
The LED is visible up to 1000 ft, and can be set to glow or flash modes with the press of a button.
Made of high quality nylon, this lightweight, durable collar is also highly water resistant for the water-bowl-splashers and the dogs who just can't resist jumping in every body of water they see.
Disclaimer: We received the Knuckle Lights as part of their blogger program in exchange for an honest review.  I only share information about products that I believe in and already fit into our doggie lifestyle and routine. Knuckle Lights did not compensate me for this post.   
Keep your dogs safe!