Dentals for the Boys: Importance of AAHA-Accredited Hospitals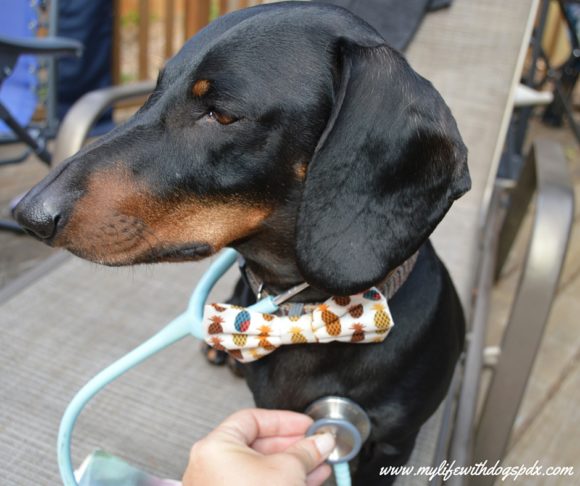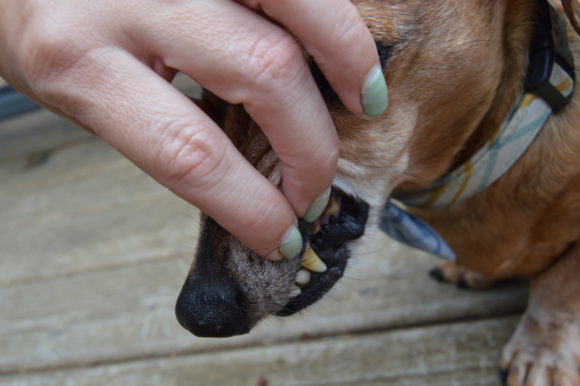 Pre-dental, you can see the tartar on Bruisy's teeth! Pre and post dental pics below.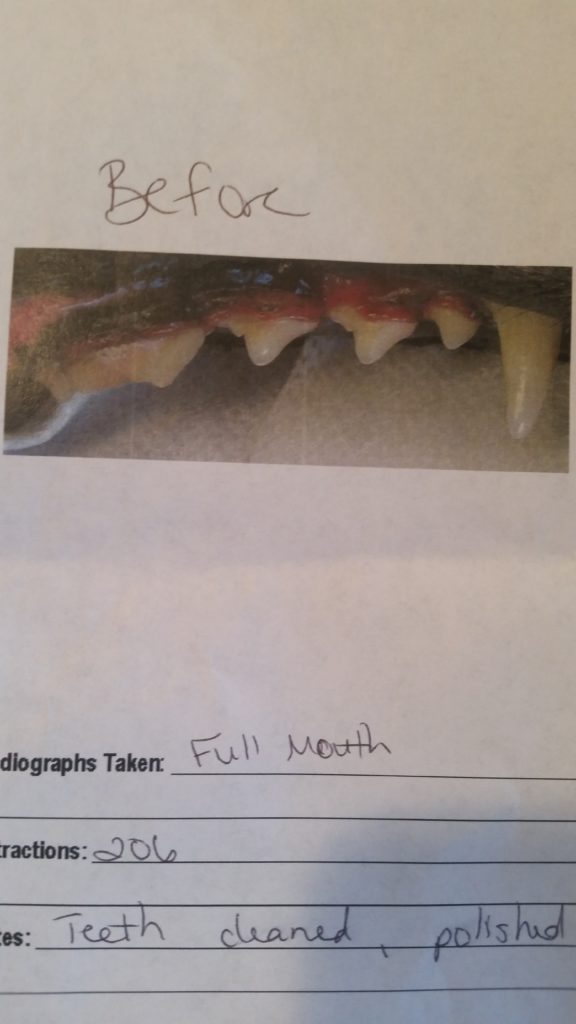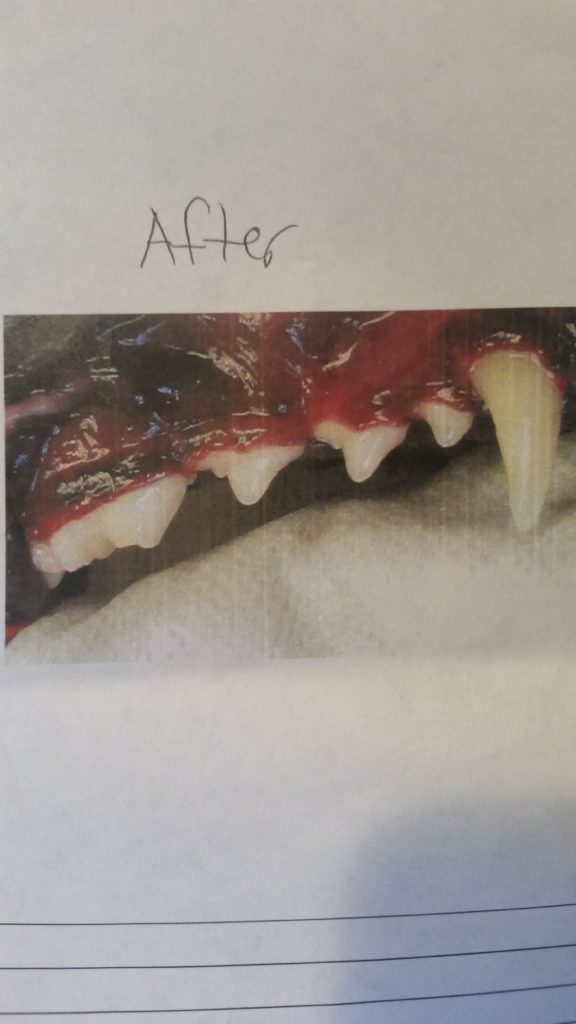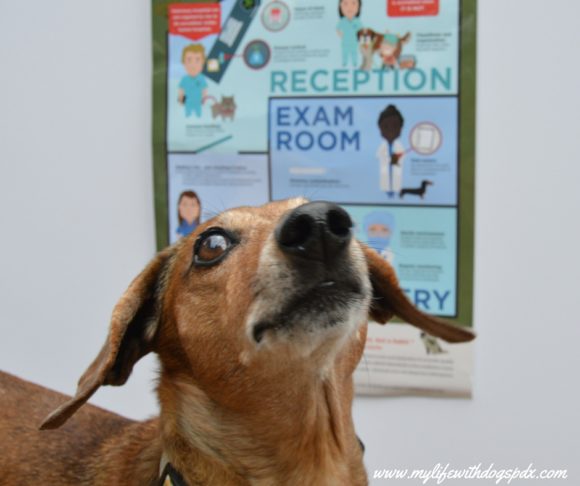 A Healthy Mouth is Key for a Healthy Body (#sponsored)  
The first AAHA day will take place July 22. AAHA is short for American Animal Hospital Association – and our vet in Hillsboro, Oregon, Frontier Vet Hospital (FVH) is AAHA-accredited. There are a lot of reasons this is important — this week we're taking two of the dogs in for their dentals or COHATs and to be eligible for accreditation, AAHA-accredited hospitals must pass a 900-point evaluation that assesses safety protocols, equipment, veterinary knowledge, and other fundamental areas of pet health care.
When I think about how important anesthesia protocols are and low-stress handling techniques — especially when it comes to surgical procedures — I know I'm in good hands since FVH follows AAHA protocols. One example, is that numerous practices have adopted the AAHA protocol of full mouth radiographs on every patient. "Radiographs are necessary for accurate evaluation and diagnosis," according to the Revised AAHA Dental Care Guidelines for Cats and Dogs, 2013. With the help of rads, our Veterinarian Dr. Yung, found a fractured pre-molar that needed to be removed. Rads are very important. (Poor Bruisy – who has been acting like his nomal, happy self! you see tooth 206 in the above image is noted as extracted).
"In addition, AAHA standards require AAHA practices to provide intubation and general anesthesia for all dental procedures." AAHA Corporate is the home of the fear free certification program so this another reason AAHA-Accredited practices are the ones every pet parent should be taking their family members too. It's ok to be nervous as a pet parent when you drop your animal off for surgery. That's normal but with these strict protocols you can be confident your pet is in good hands!
"Although anesthesia cannot ever be 100% risk-free, we practice very high standards of anesthesia safety and know that the risk associated with anesthesia-free dental cleanings are much higher than a controlled and thorough dental procedure under anesthesia," said Frontier Vet Hospital.
Bruiser has a "junky" doxie mouth and is pre-disposed to developing periodontal disease. Poor dental health is also associated with more dangerous medical conditions like kidney, liver, and heart problems and diabetes. Since Bruisy (and Shermie at nine) is a senior, these high standards are important when we take them in for their annual cleanings.
About periodontal disease:
*I believe dentals are most effective when done under anesthesia, as a CVT I've seen lots of cat and dog mouths and it's very difficult to see "under the hood" without the use of anesthesia.
According to the NAVTA Journal (vet nursing in action), periodontal disease is an infection caused by bacteria in the biofilm that forms on oral surfaces.
Knowing the signs is really important – see a vet if you notice any of the following:
Red, swollen gums
Increased drooling
Dropping food from the mouth
Whining while eating
Loss of appetite or weight
Loose or discolored teeth
Bleeding from the mouth
Decreased energy and acting grumpy
About AAHA Day:
AAHA-Accredited Hospital Day (AAHA Day) was created to recognize veterinary hospitals that have been awarded the American Animal Hospital Association's top honor, AAHA accreditation. If your hospital is accredited, it means your pet is being cared for by one of the top 12–15 percent of animal hospitals in the United States and Canada.
Not sure if your hospital is accredited? Use the AAHA-Accredited Hospital Locator tool to find out. Nearly 60% of owners think their hospital is accredited and it's not!
For all you Portland readers, there are 16 accredited hospitals with Portland addresses so there are plenty to choose from in the Portland Metro area.
FACT: Late last year, the Oregon Board of Veterinary Medical Examiners ruled that AAHA-accredited practices are exempt from state inspection. Oregon is only the 3rd state in the nation to do this (the first two were Alabama and Ohio), and we think it is a trend to continue.
Disclaimer: I only share information about products and services that I believe in and already fit into our doggie lifestyle and routine. #AAHA did not compensate me for this post.  
This infographic talks about what separates AAHA hospitals from the rest: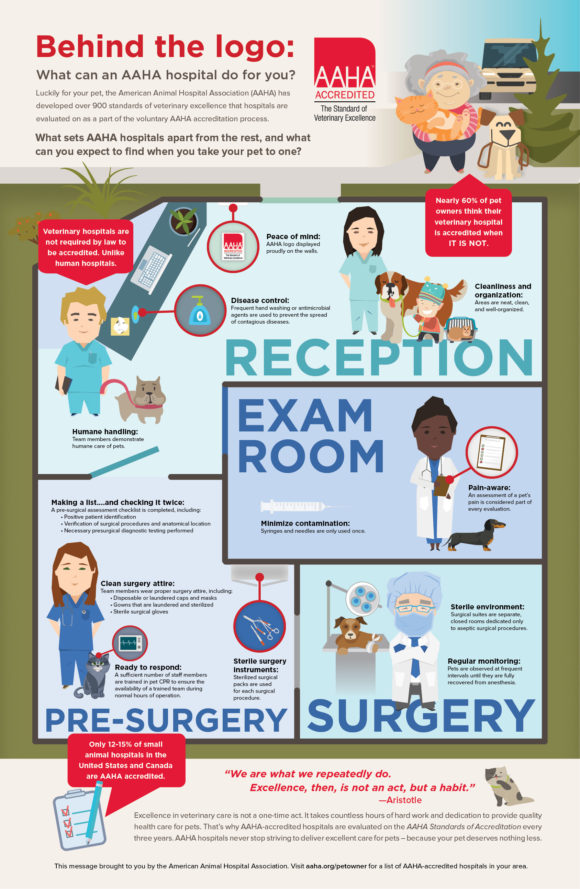 aaha.org | Facebook | LinkedIn | Twitter | YouTube
AAHA-accredited veterinary hospitals are champions for excellent care.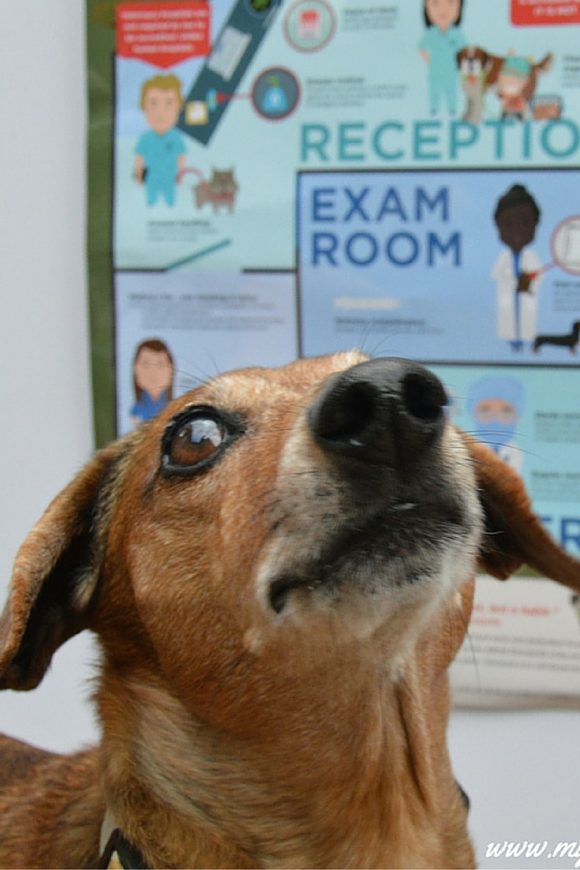 Contest time! 
One lucky reader will have an opportunity to win a $50 credit to use at the AAHA-accredited veterinary hospital of that reader's choice. Enter below!