A Q&A with Wonder Dog Superfoods: Why Cannabidiol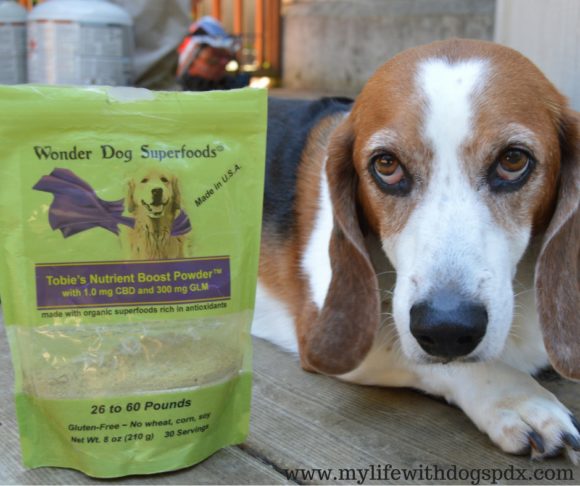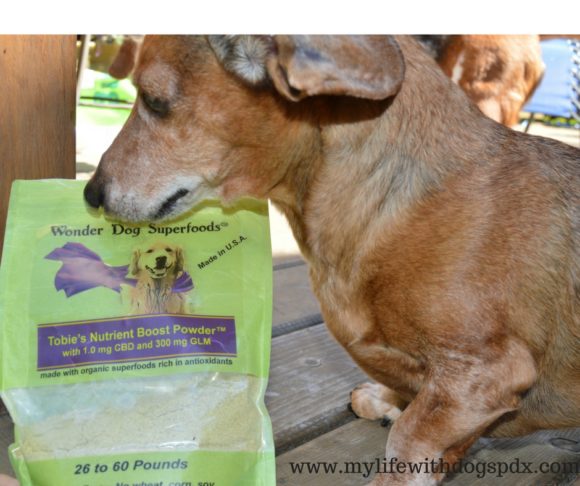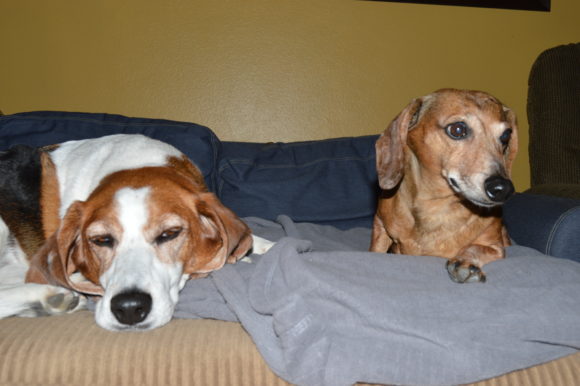 Bruisy and Sherm on the couch – TOGETHER, which doesn't happen all the time.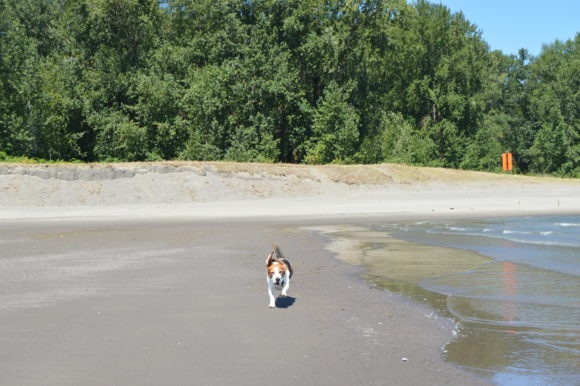 Sherm is killing it!
#sponsored
In celebration of Senior Citizen Day on August 21 or Senior Pets Day, I reviewed a superfood supplement with CBD or Cannabidiol. This is the second product I've reviewed with CBD, a non psychoactive, grown from non-GMO agricultural industrial hemp based plants (NOT the marijuana plant). This supplement I researched extensively and it's not a treat but a supplement with wonderful superfood ingredients. After many discussions with the owner of Wonder Dog Superfoods, I was excited to start this with Shermie.
Why of all three, Shermie? Sherman has anxiety and he's a senior at nine. I've written about what we do to manage his reactive behavior and decrease his overall anxiety. Our holistic vet has given us a number of supplements that work well including: Passion Flower (now in a tincture) and Adrenal Support (think fight or flight) and both work well. CBD is known to combat anxiety.
Superfoods have been trending for years now and we do include a number of superfoods in their daily diet already – as Darwin's (raw diet – more in this post I wrote awhile back) includes wonderful ingredients. All of the Wonder Dog Superfoods products are nutrient dense and brimming with anti-oxidants. They use organic human grade superfoods like Chia seeds, Amaranth, Flax seed and hand harvested sea vegetables. The wafer form is great for helping keep teeth clean and the powder form makes the ingredients even more bio-available for ailing or elderly dogs.
Wonder Dog Superfoods formulated their products with issues like body health, ease of digestion, anxiety, joint pain and inflammation in mind. I read the testimonials and was impressed. This is also a supplement I'll be giving to Bruisy in the coming months since he's a senior and will clearly benefit!
Shelley Sloane, the co-owner, and I had a few conversations over email and I asked her to answer some questions too before I even started giving the supplement to see what benefits (if any) there would be for Sherm and my pack.
First, how Sherm benefits: (I've been adding this to his diet twice a day for well over a month) 
Every once in a-while he limps on his right front leg –soft tissue inflammation- this has all but disappeared
Anxiety around Bruiser: biggest thing – this has noticeably decreased – I call it their prickly behavior as time has passed and they've gotten older there are times when Bruiser just rubs him the wrong way… with this supplement on board I've seen less of this
*note that some dogs can be allergic to some of these ingredients in supplements like lentils so make sure you read the entire label before adding anything to your dog's diet and if there is any question you should verify with your vet it's ok to add these into their diet. Also, I'm not a vet, and any new behavior or medical issue should be checked with your veterinarian. 
Now, CBD Specific Questions – and my Q&A with the co-owner.
Why did you create this product? The beginnings of this product are based in the discomfort of my partner's elderly rescue Golden Retrievers. She is a certified nutritionist and she put her skills to work with the intention of easing her elder dog's pain and inflammation. We are proud to say that the results of this can be seen in our client reviews.
What type of research and studies have you done on CBD? To determine its effectiveness in animals. We have done our own research through use with our own dogs as well as rescue dogs over about a three year period, but these are not peer reviewed results. Luckily there are many peer reviewed studies that back up our own results. They are dry reading, but the curious reader can write to us and we will give some examples.
What testimonials do you currently have regarding how your Wonder Dog Superfood supplements lesson anxiety in animals? (and treats) I as a certified professional dog trainer have had very good results with my clients dogs suffering from anxiety issues. We have multiple reviews on our site under the review tab as well. I just talked to a fairly new client today with an elder dog and this is her word for word response to me… "It's good — we just ordered more of your amazing product! Rito is a happy camper. He is almost like his old self again".
How do we know that CBD products are safe? Studies and our own research have shown CBD to be very safe for dogs. My own dog is on our CBD/GLM powder because he has some anxiety but mainly he has arthritis in all four limbs. You would never guess it watching him play with a Husky one third his age.
"I have worked with dogs of every walk of life since about the mid to late seventies. I am loath to suggest vet visits for medications for emotional issues unless I see absolutely no other choice. My choice is to use counter conditioning and other techniques in order to ease anxiety, etc. I learned about CBD a while back but had not applied it to my training tools until I met my partner. The reason why is because up until I met her, I never saw an ingredient base that I could believe in. This superfood base is exactly what I wanted to see and I was eager to work with her as soon as I reviewed the product. I knew that this product would bring another dimension into the health, welfare and happiness of dogs and help to give owners piece of mind. If you read our reviews, you will get a very clear picture of why I, as a long time dog trainer that works with dogs who may have emotional and or physical issues behind their behavior problems, love these products and decided to become part of this company."
I'm for one a huge fan of this brand and both senior dogs will continue this supplement! It's also made in the US – and consists of organic, human grade ingredients.
Resources:
*We cannot claim that it helps due to FDA regulations, we can however tell you that studies show positive results with use of CBD products and we can suggest that you take a look at our reviews.
Disclaimer: We received supplements from Wonder Dog Superfoods as part of their blogger program in exchange for an honest review.  I only share information about products that I believe in and already fit into our doggie lifestyle and routine. They did not compensate me for this post.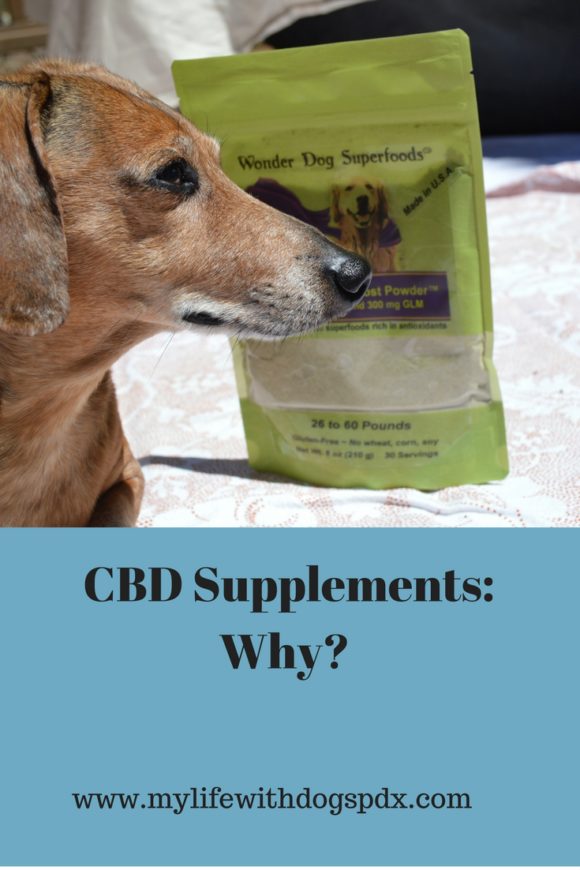 Pin me!