Benefits of Swimming: Young & Old Dogs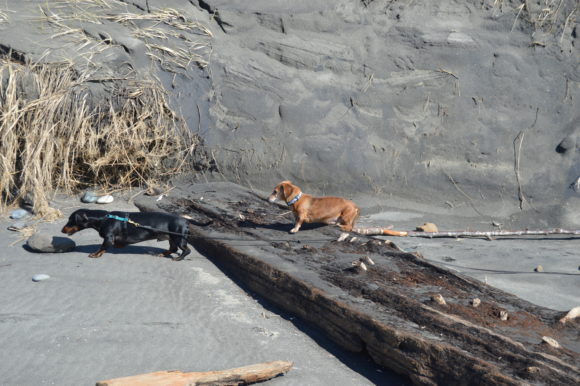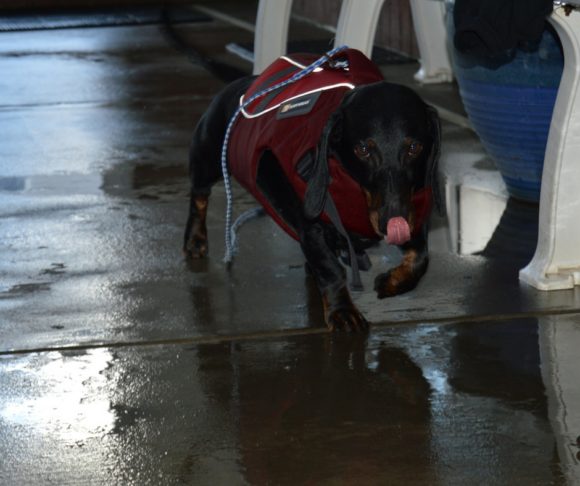 Why Swimming Rocks During The Winter:
I know I have been a broken record when it comes to winter activities but I'm now taking both the doxies to a swim facility for dogs once a week. I don't know why I didn't do this sooner! Bruiser doesn't go to Nosework once a week like Shermie and Walter and he's older – so I enjoy have a senior day with sweet Bruiser….why does Bruiser benefit from swimming?
And I read an article today that Steve Dale, a certified animal behavior consultant, was quoted in talking about the impact of winter on our animals as they also may be affected by Seasonal Affective Disorder (SAD) so we need to get out and stay active despite the rain! (That seems like it will never end…)
So get out those Float Coats!
Why do older dogs benefit?
I learned in tech classes that hydrotherapy has many benefits ranging from: helping dogs become stronger, lose weight, decrease lameness, assist with balance and increase flexibility
Our dog Sandy had terrible osteoarthritis and we took her to a rehabilitation facility where there was an underwater treadmill
Water makes exercise weightless
Ask your veterinarian for a recommendation and find a Certified Canine Rehabilitation Practitioner. While I can swim with the Doxies – there is also an assisted swim where the CVT swims with your dog
Bruiser was diagnosed with IVDD many years ago – he's getting older and walking on pavement is getting more difficult but he can swim!
Tips for dogs that haven't done this before: 
Some dogs may need to "develop" their enthusiasm and this applies to Walter and why we're swimming
I want the experience to be positive so Walter receives loads of treats throughout the session
And if he doesn't take to water activities  – that's fine! We have lots of other activities to do
Ok! With Walter in a Float Coat — we swim for a minute or two and then we go back to the ramp where he can put his feet on solid ground (goal is for 15 minutes maximum – I split the 30-minute session between both doxies). The Whole Dog Journal story I refer to below – also ends with "know when to call it quits"
I've worked with dogs and have some experience swimming them in a pool so I was hoping I'd get cleared for a self swim after the first swim assessment with the owner and Certified Vet Tech (CVT). There is paperwork (requesting permission from our Veterinarian) and the owner swam with Bruiser to ensure I knew how to set the doxies up for success if I was to swim with them without a trained CVT.
Walter "tolerated" the first session so I really want to work with him to get him used to swimming.
Have you ever done this with your dogs? Give me a shout with questions!
Great tips here in Whole Dog Journal – tips on how to shape this behavior.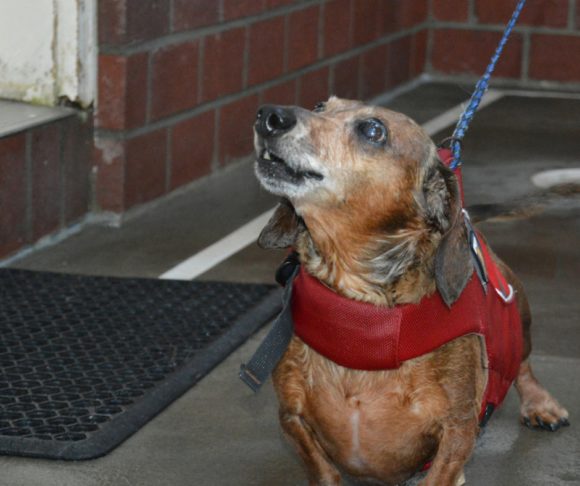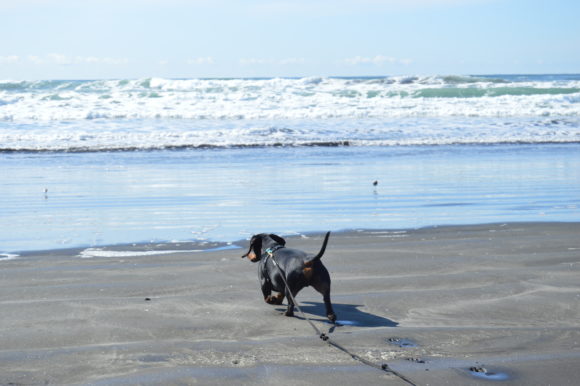 Yep – we also found that Walter exercises at the beach just by digging for critters!
Other Resources – local PDX facilities: