Teckelklub K9|essential Supercoat: A Review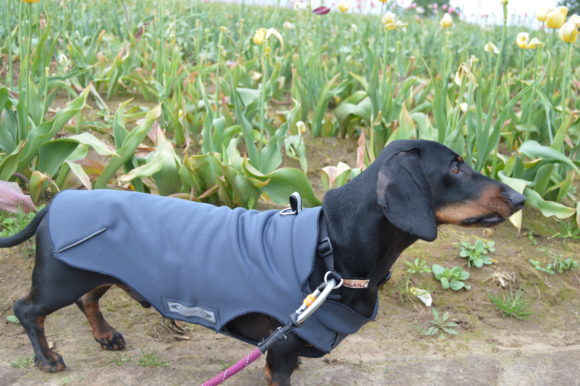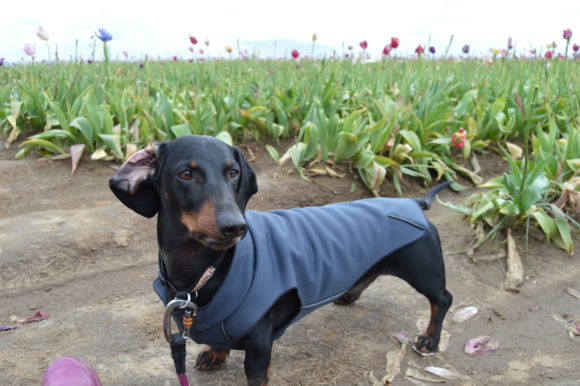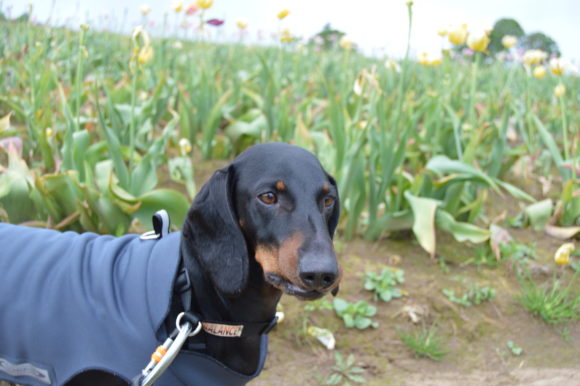 A review of the K9|essential Supercoat:
After a few days of unexpected hot weather, spring showers are back. So I tested Teckelklub's K9|essential Supercoat this past weekend when we went to the Wooden Tulip Festival. Walter is really active so we needed a light rain coat that allows him to move easily. Walter is a Standard Doxie, and it's really hard to find coats that fit him well. He has a deep chest and I'm grateful Teckelklub makes so many awesome products for our climate that fit doxies! – as you can see from the pictures, the coat fits well. In addition to doxies, these coats fit all breeds well so the jackets are really versatile. Shermie has one of the Fuzzies and it's a perfect fit for a Beagle/Basset mix.
The K9|essential Supercoat is a soft-shell weather resistant layer with a modern twist of style. It kept Walter dry and it also did a nice job keeping him warm. The fabric is wicking so it's breathable and waterproof which is why Walter stays warm even though the jacket is wet. And really wet – we were in the middle of a tulip field in spring showers. It can be worn as a base layer with other jackets but I found on a 50 degree day Walter only needed the jacket.
What I love about it:
It's really easy to get on and off. It's made from a stretch-woven softshell fabric and has a velcro closure on one side. I don't have to fight with him to get it on and off.
It has full chest coverage which for Walter is super important.
I've washed it almost five times since I've gotten it and it looks brand new so the wash isn't an issue at all with the fit. They say to hang dry it.
We walk in dusk quite a bit and the jacket is trimmed with reflective piping which is awesome for visibility.
Great jacket for the Pacific NW!
I'm a huge fan of the brand, they choose to manufacture their coats in North America rather than China. This is an important factor when I'm looking for dog apparel.
Disclaimer: We received a jacket from Teckelklub as part of their blogger program in exchange for an honest review.  I only share information about products that I believe in and already fit into our doggie lifestyle and routine. Teckelklub did not compensate me for this post.  
Resources: