Dogs with Digestive Disorders Benefit from Probiotics #sponsored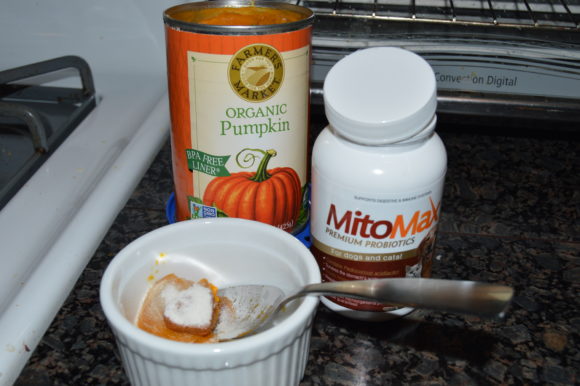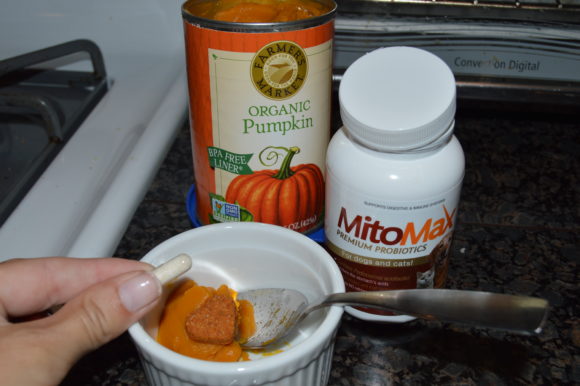 You can easily add it to Pumpkin or their meals.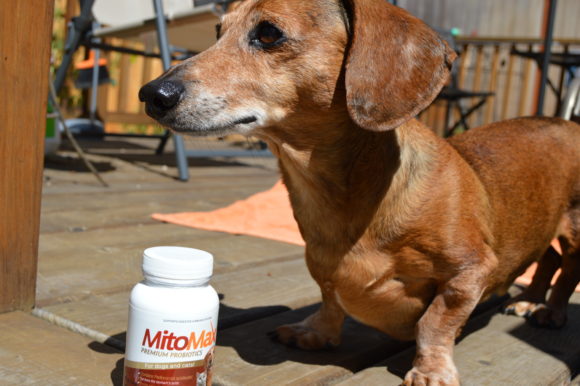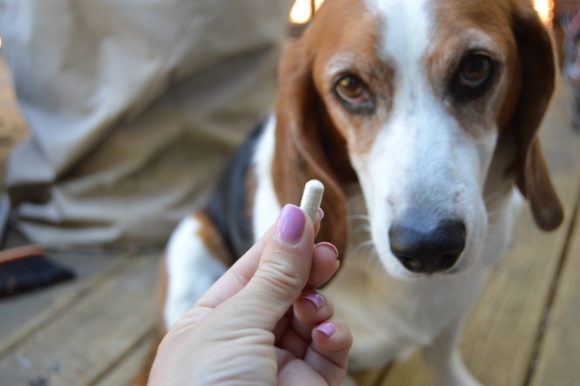 All my readers can receive 10% off by using this coupon code- mylifewdogs when you check out. (I do get a few pennies if you buy something from Imagilin).
MitoMax: Dogs with Digestive Disorders Benefit from Probiotics (#sponsored)
Let's celebrate National Dog Day by talking about digestive disorders for dogs! Yes, really – let's actually look at a probiotic I'm using with the dogs.
Bruiser was diagnosed with a digestive disorder (Irritable Bowel Disease) years ago and he's on Tylan Powder, an antibiotic, so I looked at a wide variety of probiotics that would help put the beneficial microorganisms back into his gut. I've used a few brands over the past five years.
Digestive disorders vary from Irritable Bowel Disease to constipation, one of the most common disorders.
First, what is a probiotic?
Probiotics are beneficial microorganisms naturally existing in gastrointestinal (GI) tracts of human and animal.  The biggest reason I take an antibiotic is that I'm too busy to get sick. FACT: 70% of your immune response is coming from the gut… so you need a healthy gut.
Let's start with some facts about probiotics:
"Since the discovery of probiotics, many probiotics related health benefits such as antibiotics-induced diarrhea, acute diarrhea, traveler diarrhea, allergy, respiratory and urinary tract infections, inflammatory bowel disease, irritable bowel syndrome, colon and bladder cancer, and rheumatoid arthritis have been reported (Doron and Gorbrach, 2006; Goldin and Gorbach, 2008, Kaur et al 2009)," according to the Imagilin white paper Pediococcus-The choice of probiotics for health benefits
I found a company, Imagilin, who manufactures probiotics for humans and animals in the U.S. Imagilin Technology has a unique and patented probiotic strain, Pediococcus acidilactici NRRL B- . MitoMax, the plant based pet probiotic contains one unique bacteria strain and a complementary yeast. S. Boulardi (yeast) is used in human brands including Florastor which I take.
Given Bruiser is on an antibiotic for IBD (it's super safe, Tylan Powder, as mentioned above) it's important he's also supported with a probiotic and the combined bacteria strain and yeast help his gut health. I reviewed their white papers extensively and the research is real – dogs with IBD, Immune Mediated Diseases (IMHA), and chronic disorders that require high doses of corticosteroids benefit from probiotics as the drug dosage can be reduced.
That being said, antibiotics and other drugs like NSAIDS often cause diarrhea. Probiotics help with common disorders so it's also important to look at probiotics if your dog needs either of these drugs. According to Whole Dog Journal, "Human studies have documented the effectiveness of certain strains in treating diarrhea, irritable bowel, and intestinal inflammation." Imagilin has done studies with dogs and MitoMax helps dogs with this common problem.
Some other advantages of MitoMax? These are the benefits that I really like about the brand – we've been using this probiotic for over two weeks and there haven't been any side effects. We have had zero issues with vomiting, diarrhea and constipation.
The product is shelf stable at room temperature for two years. So I like that it doesn't have to be refrigerated AT ALL and I can bring with when we're on outdoor trips or long car rides.
We've talked about this my second favorite benefit is it works congruently WITH antibiotics.
The strain can survive in the stomach's acidic , the first line of defense.  Typically the bacteria have to survive their trip through your pet's stomach acids and bile salts in order to successfully make it to the gastrointestinal tract. This strain eliminate this issue.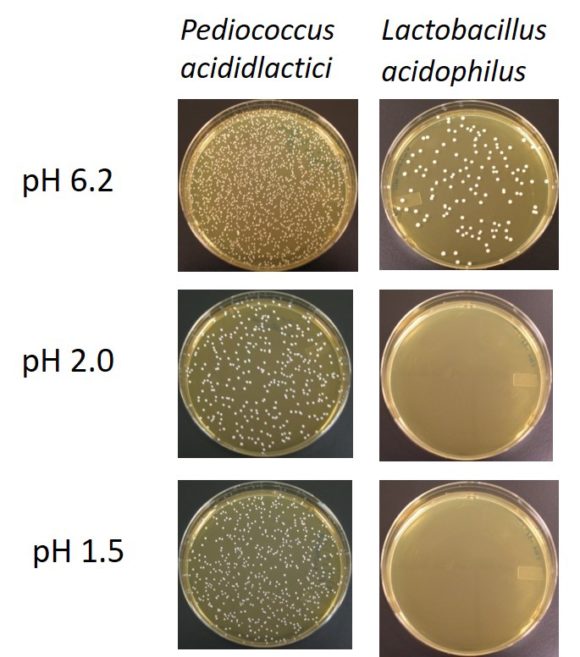 Pediococcus acidilactici as compared to Lactobacillus in varying levels of pH levels. Our stomach acids are generally around the pH level of 2.0 but the Pediococcus acidilactici is able to survive in more acidic environments.
More on how to add this to food!
All my readers can receive 10% off by using this coupon code- mylifewdogs when you check out. (I do get a few pennies if you buy something from Imagilin).
Sidenote: Everyone should be taking a probiotic. I've been taking one for years and my father was diagnosed this year with C-Diff, a probiotic helped with his recovery. In fact, without it I'm not sure he'd have recovered as quickly.
Resources:
Disclaimer: We received supplements from Imagilin as part of their blogger program in exchange for an honest review.  I only share information about products that I believe in and already fit into our doggie lifestyle and routine. I was compensated for this post and the above discount code is an affiliate link.  
Pin me!